We bought a pineapple yesterday at the grocery store for $1.99. I never bought a pineapple before in my life, but I remember when Kristin from Iowa Girl Eats posted on her blog how to pick out a decent pineapple, and when it was ready to eat.
Quote from one of her blog entries:
Pineapple buying tip: the ones that are more yellow than green, are usually the sweetest. Also, try plucking out one of the fronds from the top of the pineapple. If it comes out easily, it's usually ripe and ready!
Kristen also posted on how to cut a pineapple. All these years I never bought a pineapple because I thought it'd be impossible to cut. Little did I know how easy it was.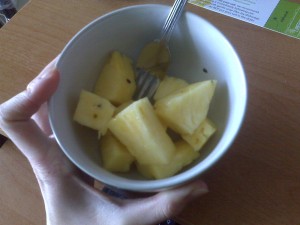 This will be my fuel before tonight's first soccer game of the season. I should have been smart and planned ahead for my ankle brace and tried it on and kick the ball around. But I never did get around to it. Oops. I hope I'll be okay!