Man. I can be a real idiot sometimes. I received a  finger-wag directed towards me, yesterday at the border crossing to USA, but we'll get to that in a moments time.
Saturday afternoon seemed like the perfect time to drive down to Amherstburg Ontario for a marathon with my boyfriend. We had planned on staying overnight due to the race being on Sunday morning and we didn't feel like getting up at 3am to drive straight from our apartment. So, we rented a hotel in Windsor.
Folks, let me tell you one thing I love about staying at hotels.
Cable TV.
Watching TV in bed is one of our little pleasures. The boyfriend and I are quite active in fitness so we haven't had cable for over 5 years. The best part is, that we don't even miss it! We have a TV in our apartment but we use it for Netflix (rarely) and he mostly uses it for training on his indoor bike trainer.
So zoning out in front of a TV on a Saturday night in the hotel room was glorious. As soon as I flicked to one of the channels, it stayed on that channel for the rest of the evening. Hilarious right? We watched Man-Tracker, and a few episodes of The Liquidator after that. I forgot how addicting it can be, and HOLY commercials. Forgot the annoyance of that.
We had a great view of Detroit across the river, and I took a snap of the ginormous GM building lit up in these forever changing lights on Saturday night. Pardon the cell phone quality photo.
The next morning we drove back to Amherstburg for the race for a 7am start. I spotted a man who had a similar tattoo to the boyf's. Ironman Canada finishers tattoo! The boyfriend has completed 5 ironmans in the last 5 years. 4 IMC's and 1 Mont Tremblant.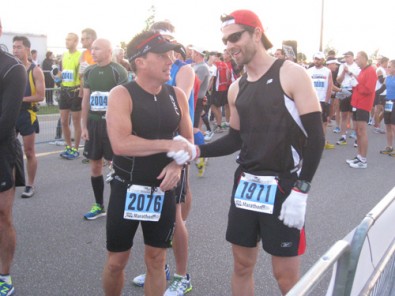 They posed together and shortly before the gun went off for them to race.
and off they went!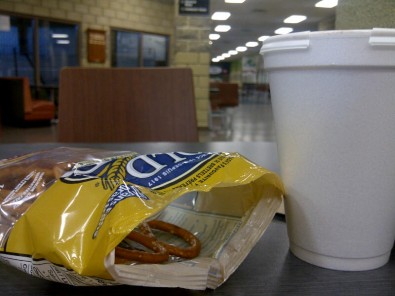 It was windy most of the morning so I stayed inside the building and warmed up with some hot chocolate and ate pretzels.
My boyfriend mentioned he was going to run a fast marathon and told me what time I should expect him to come through the finishers chute.
I went back outside early enough to secure a good spot around the fence. Half marathoners started the same time as the marathoners, so the half-people were coming in and I got a good view and wasn't waiting too long in the cool windy weather we were having.
We had a little bit of unexpected excitement at the finish line. The blow-up arch ended up falling down right in front of people crossing the line! It was an easy fix and back up in no time. Oops.
The first marathoner came running in with his long, speedy stride so the spectators started ringing their cow bells and cheering.
Second place guy came in, and looked like he had a bad race (he seemed angry and swatted away his medal).
Third place male came in and looked a little older than I expected. None of these men looked relatively young so I was kind of surprised. Then again, it was a small race.
I spotted a guy who looked like my boyfriend. I didn't recognize his running stride because he was going full tilt. His stride was quick and he was coming in fast. Holy dang-balls, it was The Boyf. I think I was the loudest person there screaming and shouting "YEEEAH BOYF. WAY TO GO. OMG FOURTH!! YOU GOT FOURTH OVERALL" even before he crossed the finish line. Then quickly after that I shouted at him to give me a high five. HAHAHA Who does that? An excited cheerleader girlfriend, that's who.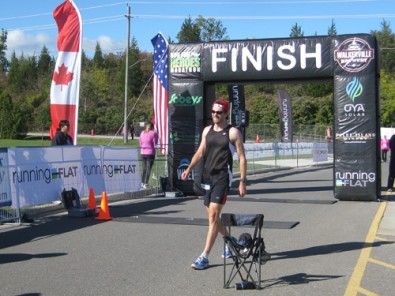 Not only that he did his first ever sub 3 hour marathon.
What speed and endurance! Unbelievable. What a guy. It was a proud moment for us both.

He laid on the grass for a bit since his legs took a beating after that race pace. So I wrapped him up in one of those emergency blankets to keep him warm.

We were both thrilled with his results!
It was a small race so he didn't expect much in the way of an awards ceremony (there wasn't one).
But he did place 4th overall and 1st in his age group so he was given two free movie tickets valid only at a location in Windsor.
Like my new zip up hoody? It kept me warm throughout the day. I'll be reviewing it shortly on the blog. Stay tuned!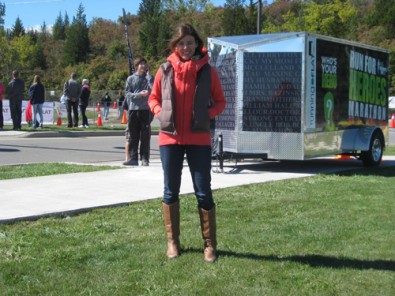 We clued up at the race site, buckled up and started the drive to Michigan.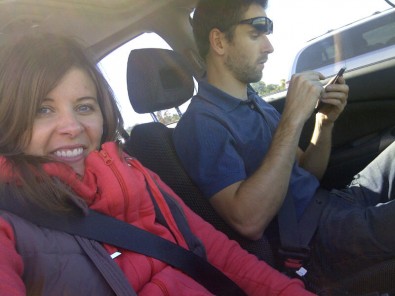 We ended up going across the border to go see the Detroit Institute of Arts (DIA). I've always been big into taking a sickly over abundance amount of photos, and for some reason it didn't occur to me that I should probably stop taking photos at the USA border crossing.
Got my camera out and started clicking away — when we got to the toll, I was taking a photo of a sign in front of us before we went to see the Border crossing guards. Looking through my cameras view finder, I saw a lady's finger wagging at me. I jumped a little in my seat. I made an apologetic face as she walked over to the window mentioning that there was to be no photos taken on the border. Thankfully she didn't interrogate us any more than scolding me for snapping pictures and off we went. The heart was-a pumpin'.
We were only in Detroit for a few hours, mainly to see the DIA (before they possibly shut down the museum). The building is just beautiful. All made of what seems to be marble and stone. Very historical and so stunning to look at.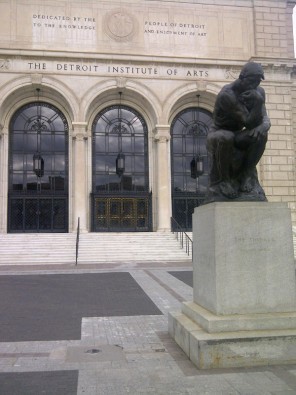 Inside the DIA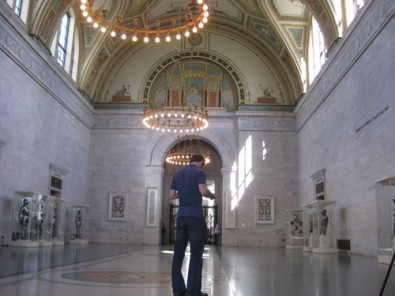 Some areas of DIA allowed for photos, and one of them happened to be the van Gogh area.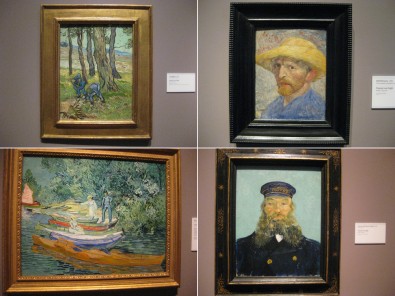 I'm not the biggest fan of van Gogh as I am more of Picasso. As a teenager and in my early twenties I painted a lot of "replicas" of Picasso and gave them away as presents to family members and friends. I haven't really painted much of anything in the last 10 years. I did two paintings (and the last one in 2011). So I really do miss it. I don't know why I stopped.
So. That's that. I don't really have much more in my blog post to say, so I'm going to end this post awkwardly and say so-long until tomorrow.
What did you do this weekend?
Have you ever gotten in trouble with officials, whether it be on the border or elsewhere?
This isn't the first time I had something strange happen to me on the border.  When I flew up to Ontario with a few climbing buddies in 2003, we did a u-turn on the Niagara border. Literally. We were lost since we were looking for Niagara Glen bouldering area – the officials pulled us over for a quick moment and questioned my friend, the driver. Thankfully that was just it.
Are you a runner?
Gotta say, watching triathlons I don't have any desire to ever do one. But watching running races makes me want to run a race again. Maybe another 5k.