I've always been fond of Labour Day weekend. Perhaps it's because it's my two love-birds of parents anniversary on the 4th. Or it's the last hurrah before my favorite season comes out to play.
Gotta admit though, I felt a little jipped this summer with the weather. Where was Ma Nature in July? We're getting heat this weekend but it makes me long for it even more. Putting my woes aside, I'm about to tell you all about our weekend even though it is only half way over.
We did a bit of relaxing out on the balcony, watching the thunder storm and having a few snacks and bevvies. Pardon the iPad photo.

Even though my boyfriends major race of the year is now over (Ironman Mont Tremblant) he's still going strong in September. Yesterday he booked it down close to the USA boarder to Chatham for a time trial bike with one of his friends. That left me with the entire day to myself. Which usually results in a lot of money spent when I'm bored, hungry and need groceries.
I didn't go too hog wild because I would've had to carry up all the groceries myself from the car and I dislike making multiple trips. 3 bags of groceries from 4 different places, including a trip to the Farmer's Market and a stop into the Health Food Store.
Oh and to Target to pick up these sweet kicks for $19. I can't wait til they're broken in and look more rugged.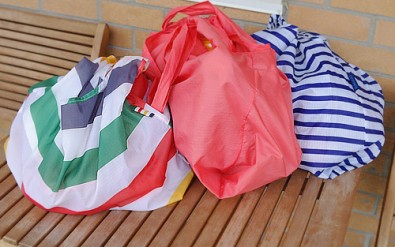 Let's see what we've got in here.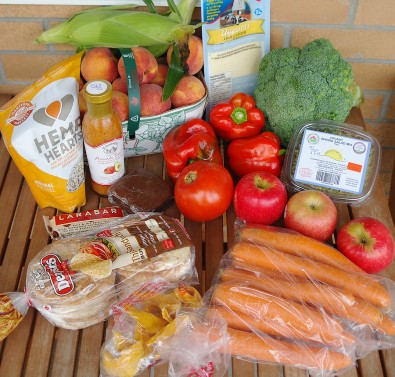 Sorta left to right starting clockwise at 11pm ;) Hemp Hearts (on sale!) // Vegan Tomato & Avocado vinaigrette // Farmers Market Peaches // Sweet Corn // Light Havarti // Red Peppers // Broccoli // Sprouts // Apples // Tomato // Vegan Gluten Free Brownie // Lara Bar // Dempster's Thins // Dried Unsweetened Mango.
Total: $26.31
And because I felt like it, I went to the drive-thru and got myself some lunch for under four bucks, thanks to dollar drink days.
I made some pretty mouth-watering meals this weekend, won't lie. Then again, we're pretty easy to please.
Supper consisted of a roast chicken breast // white roasted potatoes // Farmers Market corn on the cob (best I've had in years. Thanks Herrles) // and Herrles carrots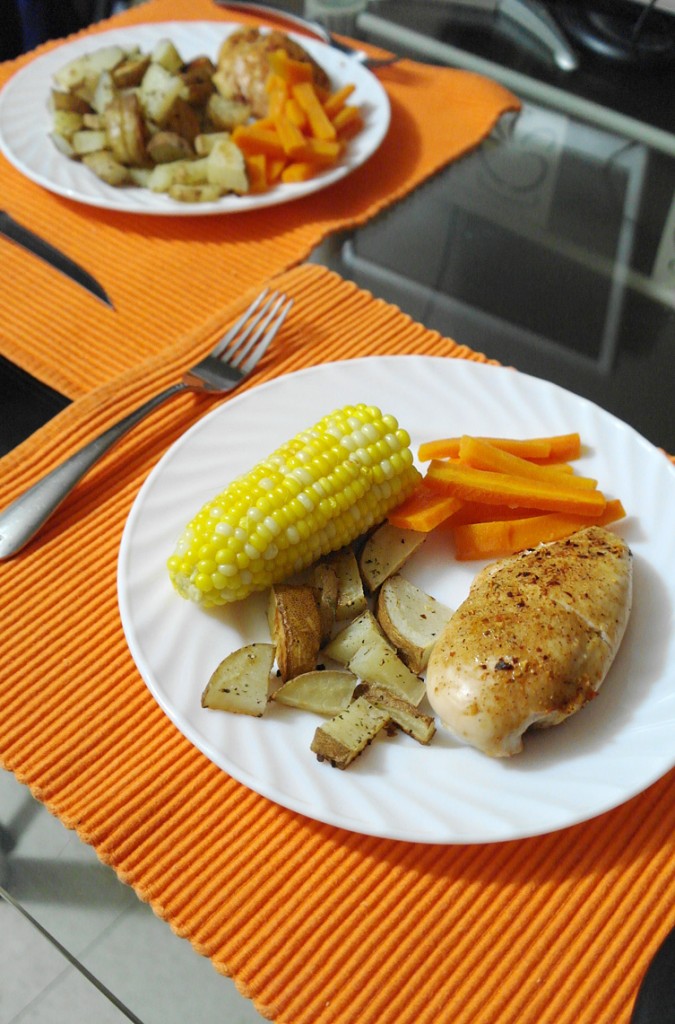 Breakfast one morning on our balcony.  Multi-grain Dempster's Thins // Sausages // Maple Leaf Prime bacon // Farmers Market peaches from Herrles // Egg omelet with mushrooms, peppers, and tomatoes
I got a little creative with lunch over the weekend and made a really healthy plate of finger foods for us to eat on the balcony again. Sandwhich ingredients: Multi-grain Dempster's Thins // Sprouts // Red Pepper // Tomato // Mushrooms // Spring Mix // Chicken // Light Havarti // Roasted Red Pepper Aioli.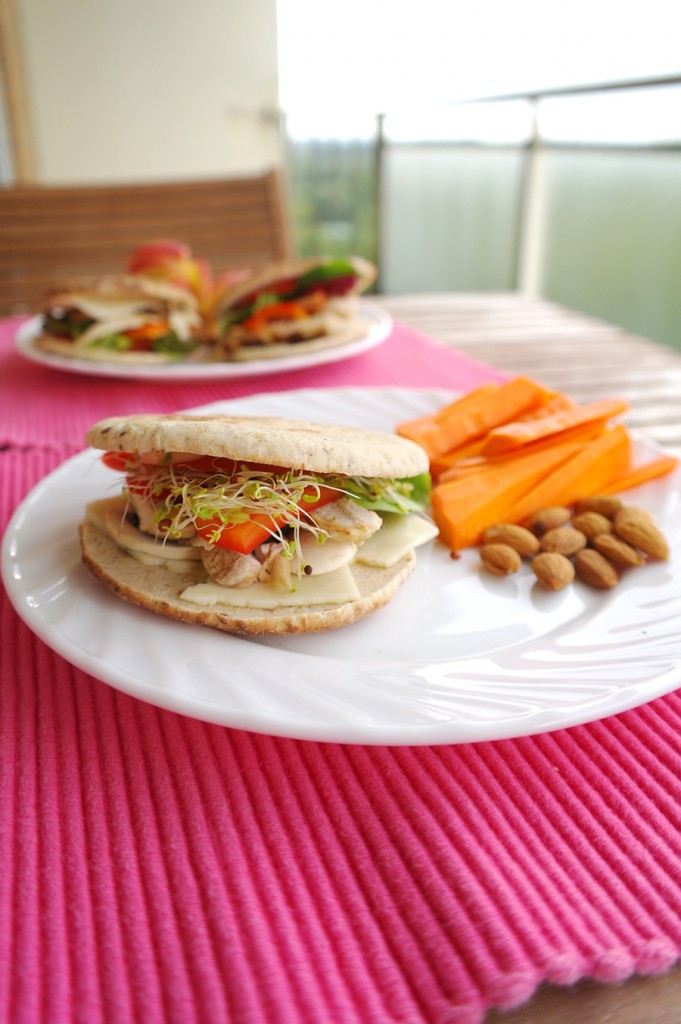 Apple with a vegan gluten-free brownie which was still so terribly unhealthy (ingredients list had shortening which is worse for you than lard. Shortening has tons of trans fat). Oops. Read your labels folks! Didn't realize it until the boyf scolded me after I showed him the brownie and raved how wonderful it tasted, then brought up the ingredients photo. Lol.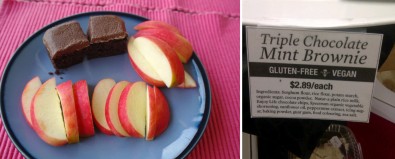 You may have noticed a reoccurring trend in my meals above with the Multi-grain Dempster's Thins. I'm currently working with them on a campaign to promote their products. My Boyfriend always buys bread as he carb loads like crazy on a daily basis. He doesn't stop running around (literally), swimming and biking for 5+ hours. In fact, he's out on his tri bike right now with a friend for a 200km ride.
Since I stopped eating Paleo I've slowly incorporated carbs back into my diet. I love ciabatta bun sandwiches but often times it leaves me feeling bloated as it's such a thick piece of bread. Using the Dempster's Thins I have the best of both worlds. No bloating since they're thin and getting to dive into luxury with a bit of carbs in my belly and not worry about the calorie intake so much. In fact, Dempster's Thins have 50% less calories than their leading whole wheat bread. Obviously due to the fact that the bread is much thinner and you're eating substantially less. But that's the point. We don't need to eat a ton more! I'm completely satisfied with the thin bread.
I'd like to share some coupons with you guys if you wanted to buy them for yourself this week with the kids going back to school, or you just going back to work and want to be prepared ahead of time.
Save a $1 on your next Dempster's product.
If you're on Twitter and are around on September 10 at 9PM EST, Dempster's Thins is having a Twitter Party! The hashtag being used will be #WinWithTHINS with over $1,000 prizes including a Nike + FuelBand. Would love to see you there!
And for those one's who want to win a little somethin'-somethin',  I've got a little something up my sleeve. Sandwich crumbs? No no silly, a giveaway for my Canadian readers. More Dempster's coupons! 8 of them in fact.
Be sure to stay in the loop with them on their Social Media channels:
Onto the giveaway! Canadian residents only. Contest ends on September 10th at 11:50pm EST.
a Rafflecopter giveaway