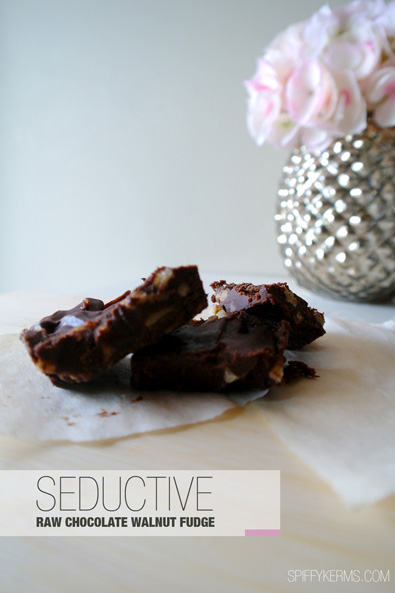 Hope everyone is enjoying their civic holiday today! I know I certainly am. So much so, I decided to make a second batch of these seductive raw chocolate walnut fudge from Oh She Glows. The first batch got devoured disturbingly quick.  I find that food is so hard to photograph, so these photos may not do the fudge justice. But if I ever ask you to trust me on one thing, it's these fudge squares that melt in your fingers within seconds, and forget about chewing on them. They dissolve on your tongue like a coconut icy square. Ugh, the thought of it…  I just want to run to the fridge and stuff my mouth. 
The other night I sat down to relax and read some blogs before bed. As always, Oh She Glow's food photos makes me salivate. As do all of her recipes, but this one stuck out to me and I got up off the computer around 10:45pm, waltzed into the kitchen with my apron and pj's on and made it in about 7 minutes. I didn't even use my electric blender. Once I had everything mixed together, ready to be tossed into the freezer, I brought over the spatula and the Boyf licked it all clean. It was delicious.
Holy smokes. It's the easiest dessert to make, ever. You need to make this. The texture reminds me of an icy square with hints of coconut. It yields quite a lot of coconut oil in the recipe. I'm a little leary on that since coconut oil is quite high in saturated fats and similar to butter in that sense. But it's still a tasty treat!
All it takes are these easy ingredients.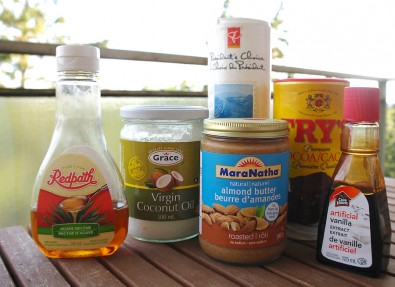 Dare say it's true to its name, Seductive Raw Chocolate Walnut Fudge from Oh She Glows: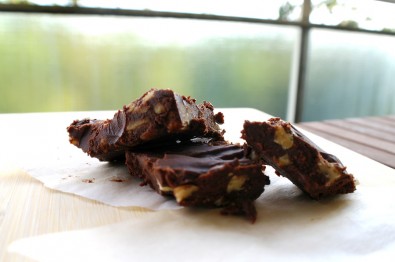 Ingredients:
virgin coconut oil

raw almond butter (or nut butter of choice)

cocoa powder (or raw cacao powder)

pure maple syrup (or agave nectar) I used agave nectar

pure vanilla extract

fine grain sea salt, to taste

raw walnuts, roughly chopped I didn't measure my walnuts, just poured some in.
Pop in the freezer for 20 mins and they're done.
Want to know the exact measurements? Head on over to Oh She Glows and grab them!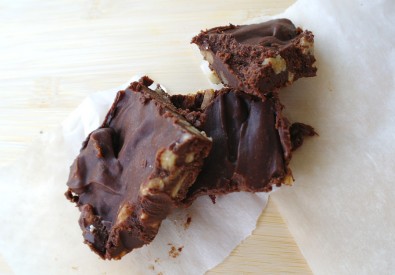 You're welcome.