You guys know already, I lead a pretty active lifestyle as my week usually looks pretty crowded with workouts from going to CrossFit, soccer, climbing and the occasional run and yoga session. Well, my (internet anonymous as he calls it) boyfriend of nearly 8 years, also is quite active as well as he is a competitive Ironman Triathlete.
We have a fantastic relationship where we're both passionate about leading healthy active lifestyles. This also means that we rarely get to hang out with each other as one of us is always running out the door for exercising. We don't exercise together, because our interests are completely different from each other's.
Normally, we try to catch up with each other on weekends and do the weekly shopping with one another, but last weekend was a bit busy so I decided to pop into a few different stores after work yesterday.
An older gentleman walking into good ol' reliable Canadian Tire saw me launch into the air galloping towards the front doors. He nodded his head and thumbs up'ed me when he noticed my antics. What can I say, I like to keep things interesting. Why am I documenting me shopping at Canadian Tire? Why not? The boyfriend saw a few things in the weekly flyer and wanted me to check it out since my office is close to one.
I had my cell on hand to take photos to send the boyfriend when I spotted my own deals. I bought a similar water bottle to this at one of his races the other year. I like these kind — but we certainly don't need any more water bottles in the house.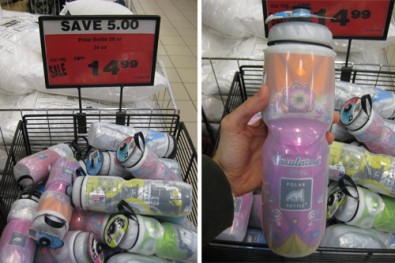 I tend to steer clear of the machinery aisles at Canadian Tire, and stick to the one's that catch my attention. Hellooooo house wares.
So many colorful Kitchen-aid mixers. I've always wanted one, but I don't even use my hand-held mixer all that often. I think I'd just want one to sit pretty on my counter top. I've always adored them. My aunt whips up the fluffiest mashed potatoes using hers.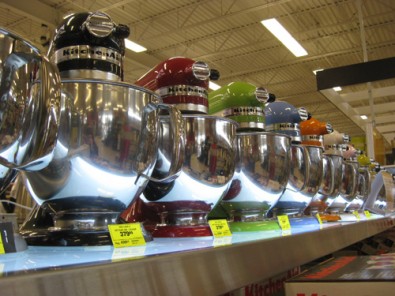 I don't take things so seriously all the time. Can you believe that? Chomp chomp, oven mitts are going to eat you!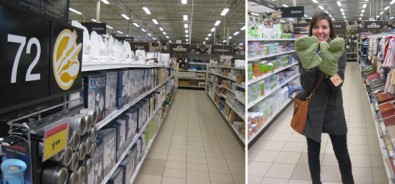 The paint aisle is another section of the store I like to browse around at. Here I am helping my co-worker select a few gorgeous shades of fuchsia paint chips for her en-suite bathroom. Jealous!
Spot that sale sign? Got that right folks… candy is on sale at Canadian Tire this week. Since I'm starting my paleo challenge on Sunday, I opted out of buying these large tubs. So hard to turn down a steep discount on candy. But I did. Try buying that at bulk barn. Not happenin' for that price!
Right around the corner there was a short aisle with all sorts of fun goodies for kids (errr… and even Adults, not gonna lie). This gadget below brought back memories of me being 8 years old in our backyard, playing for hours with a SKIP-IT! Didn't know that they still made these. No one will judge me if I buy this for myself, will they?
It's funny, whenever my Boyfriend and I aren't around each other and we need to pick up some stuff at the store when the other one isn't around, we usually take a quick picture with our blackberries and send it via bbm to the other person.
"Omg they still make skip-it's. Buy one for me for my bday!?" or… "I'm buying these for Alfie. His food bowls are disgusting. The End."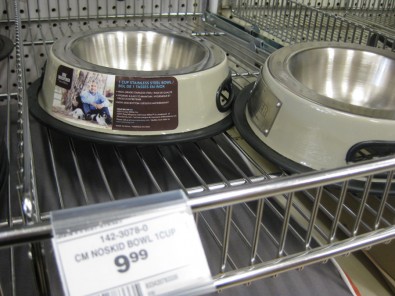 I want to get him dog bowls that don't look like dog bowls. Something like what I found in the housewares section, glass food storage containers maybe?
Both the Boyfriend and I enjoy going down the pet aisles to scope out the new digs they may have available for our Pomeranian dog, Alfie. This bag I'm pulling out from the shelf weighs about 3x as much as our lil' dog. He'd have a field day eating all that delicious dog food.
Holy, all that shopping made me pooped right out. Time for a little cat nap before I head home. Ha ha! Not a bad deal, save 15% even before patio season starts. Sweet.
Oh! Speaking of patio season – lounging by the pool is around the corner as well. What's with the empty shelves in the pool aisle? Maybe they were re-stocking? Not sure!
Have you ever analysed your shopping trips before? Do you make shopping lists and only go down the aisles you need to, or do you meander throughout the whole entire store, slowly taking your time? I have to admit, I do a bit of both. When I'm by myself and I have a list I like to go in and out of the store as quickly as possible. But if I'm with the Boyfriend, we enjoy taking our time on the weekends and seeking out new items for our home.
I am a member of the Collective Bias® Social Fabric® Community.  This shop has been compensated as part of a social shopper insights study for Collective Bias®. All opinions are my own.