I'm going back to the cheap route of doing my hair. It may be the biggest mistake of my life, but I won't know until I keep trying (or screw up).
My mom used to cut my hair back in the day. Believe it or not the first time I went to a hair dresser I was in my early twenties. It was at what I thought was a fancy hair salon in the local mall. Turns out it was the one of the worst hair cuts in my life. She said oops, while she was cutting it. I never went back.
For years I thought expensive meant better; and sure, I left it up to the experts for the past few years or so, but my hair wasn't growing longer. Recently I've been going to get my hair trimmed every 14 weeks. I have pretty fine hair so I really need the ends trimmed off every few months or it'll look ratty and damaged.
My co-worker goes to this one woman who has a hair salon in her basement. Have to admit, I'm uncomfortable there, since it's a little old and a bit sketch, but for a $15 hair cut I can live with it. My hair has been growing at a steady rate ever since. I don't know why. Maybe they listen to what I say? Maybe she doesn't go wild with the scissors? It just works.

In about two weeks I'm due for a hair trim. I may not even go for another month or two yet. Why? Because I got these hair cutting scissors (thanks to Flat Iron Experts) and I've been trimming off the dead ends myself.
My hair cut is pretty simple since I don't have any layers. Though, it's not long enough yet to cut the back, nor do I really want to depend on a blind eye to trim the back. I don't want to mess things up. So there aren't any before/after photos. I cleaned up the split ends in the front so it feels nice and fresh.
I forgot how sharp hair cutting scissors are compared to paper scissors. Have to admit, I almost got a little out of hand trimming off the dead ends. After I was done, my hair was just as healthy as if I had paid someone to trim it for me.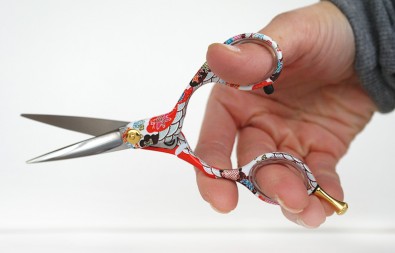 Great little Japanese motif design on the Dannyco scissors, don't you think?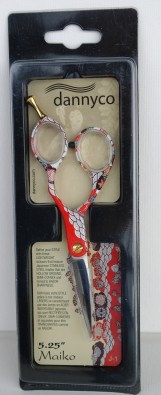 Some features of the Dannyco scissors:
High-grade Japanese stainless steel blades

Hollow-ground blades

Zinc alloy, lightweight ergonomic handles

Adjustable stainless steel screw to set the cutting tension

Removable finger rest
Dannyco hair scissors retail for $76.99 on Flat Iron Experts website.
How often do you get your hair cut?
Who cuts your hair?