Do it now,because sometimes "later" becomes "never". So that's exactly what I'm doing on my paleo challenge.
I mentioned I'd take you through each and everything I've been eating throughout this 30 day strict paleo challenge and that's exactly what I'm talking about today on the blog. Saturday's will be my weekly meal recap. Unless you want to see it daily, then you can follow me on instagram.
I forgot how time consuming it was to take a photo, then e-mail it to myself every time I ate something. I still don't know how food bloggers have the willpower to photograph something that you're dying to eat. They must be fast with their cameras, that's all I know.
Our measurements and weigh in at the local CrossFit box happened on March 30, so it's been interesting to see my body change throught these past few weeks.
I've taken a before "progress photo" as I started this challenge, but I don't know if I have the guts to post my gut online. I mean, SO many people read know about my blog (you don't understand: close friends, not-so close friends, my parents, my co-workers, my boss, my bosses boss, some exes too, I'm sure) – so if I feel comfortable, I may end up posting them. We'll see at a later date. But for now, they're just for me and my vain eyes.
I was geared up to be cranky and tired, since I've been depriving myself of sugar and filling it with nature's sugar: fruit. I'm half kidding.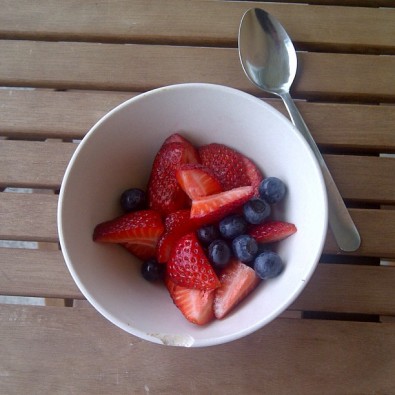 You guys, please don't take me so seriously, I know I shouldn't eat much sugar and fruit is way better for you than a king sized mars bar. Besides, I never once thought broccoli would become a 'snack' for me. How lame! Ha ha!
See what I've eaten on Week 1, and Week 2 of Paleo. Week 3's eats will be up later this evening.
What are your plans for this beauty ol' day? My boyf and I just got back from the farmer's market picking out some delicious fresh produce for the week, saved us tons of money instead of buying it at the grocery store – that's for sure. I cannot believe cauliflower is $4.00 at Sobeys right now :( Couldn't find it at the market.
Enjoy your Saturday!!