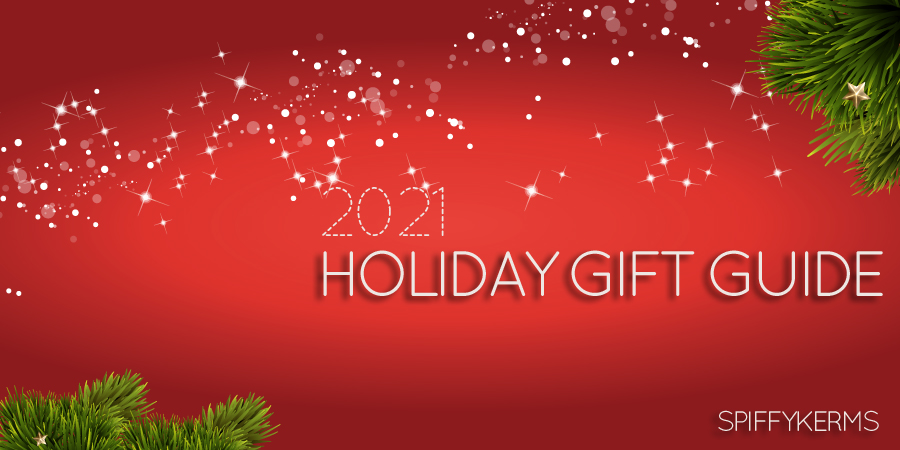 Another year, another Christmas spent in California. I mean, it IS California, so it's not that bad, right? I wish things were different and we'd be trotin' our fam back to our homeland, but unfortunately that's not the case again for a second year in a row. We're still not comfortable traveling with two young boys – it's not about the destination, it's literally being in an airplane for a good 10+ hours to get home. Not into it. So, we're taking it extra cautiously, and one day we'll get home again, and my family and friends can actually finally meet our littlest guy.
I've had extra fun gathering up a huge Holiday Gift Guide this year, and by no means is this for you to think you need to run out and buy everything I recommend, it's a mild suggestion of a list of my favourite things throughout this past year. Let's jump in.
–  Educational based play –
Lovevery| Time and time again I have come to say that Lovevery is the best when it comes to open ended montessori style play whether it be infants, babies, toddlers and beyond. They are stage-based play for your child's developing brain, hence why there are many age appropriate toys sorted into age groups based on your child's age. This year they've expanded their reach and have decided to launch playkits for 3+ year olds. These exceptional toys are designed to keep your child's attention and learn while they're at it. Grabbing tiny pieces of paper and dipping a little brush in some glue and stamping it down? Fine motor skills right there.
Homer| This is a program geared at kids aged 2-8 to prepare kids for school and life by teaching them the right skill, at the right time using the right medium. My 3 year old has their Explore Kits which are activities that encourage creative play and explore feelings. They also have the Learn & Grow App that helps kids build skills across multiple subjects. I'm excited to explore that one a little bit more with my boys.
– Dressing the you + the kids –
Makemake Organics| From beautiful quilted playmats to incredibly soft GOTS-certified (and fair trade) organic children's clothing line, each piece has this minimalist appeal but with beautiful prints your children. They recently launched their Fall/Winter line and my little fella has their organic cotton romper in Safari which comes in 9 colour ways. Check them out!
Sperry| Mom's are always on the move and Sperry shoes are the ones that are going to keep up with you chasing those little crawlers and running toddlers. From winter boots, to boat shoes, cozy home slippers, loafers and summery sandals, Sperry has you and your entire fam covered. Check out the family set of deck shoes we all wore earlier this summer. I mean the tiniest deck shoes I've ever seen! Flipping adorable. My toddler received these Sperry's just in time for the Bay Area rain to hit, and he's been jumping on we concrete like it's the biggest puddle he's been in. We're in dire straits here lookin' for a good puddle to jump. That's California living for ya. I've been wearing these Sperry boots on early morning walks with my little guy,and I *just* received these beauty boots – whistle whistle!
Bobux| Time and time again I keep talking about Bobux footwear. My eldest boy has been wearing them since he could walk. Now, I have a second boy who will be wearing those hand-me-downs, and after that, my SILs little boy will get them. The boots, and the sneaker that Bobux makes are absolutely such a treasure. THey're so beautiful – incredible quality, worth the price, and they often have huge sales up to 30-40% off. I'm more about spending the money on good quality shoes over a few pieces of clothing here and there. You're wearing shoes everyday you head out, but wearing different clothes all the time. Right? Get the most for your money, invest in nice durable shoes that won't hurt your kids feet.
Goumikids| Pretty sure right now all my boys wear to bed these days are Goumi kids PJs. They're cozy, they're soft and better yet? The baby footed PJs have fold overs…so whether you have a late walker, or  prefer footed jammies on your little ones, you don't have to choose between footless, and footed! The loungewear has to be my top fave, along with their women's super long cardigans for winter. The loungewear have stirrup feet a kangaroo pocket for keeping treasures and another "hoody style" pocket for keeping your hands warm, and in the sleeves – thumb holes! Amazing. If you are interested in shopping on their site, you can use the code NANCY for a discount!
Feltman Brothers| Oh these pieces are breathtakingly beautiful and items you really want to save for hand-me-downs for multiple children. Feltman Brothers has been designing baby and toddler fashions for over 100 years. They have gorgeous classic knit sweaters, and velour holiday sets for siblings to match. My boys have a couple of matching sets to wear from Feltman Brothers for Holiday occasions.
– In the kitchen: Food/Refreshments/Tools  –
Nature Bee Wraps|  I've seen these all-natural reusable food-safe beeswax wraps (an alternative to saran/plastic wrap) around but haven't tried them until recently. Canadian brand! Represent! They're a Vancouver Island brand that uses locally sourced beeswax. (I also have the swedish dish cloths which is an excellent alternative to paper towels).
Grabease| Promoting baby and toddler independence at the kitchen table. Grabease is a line of safe, non-toxic, ergonomic products for feeding time. Their products are ergonomic, and have a choke protection barrier to prevent them from sticking it too far in their mouths. We have these in two colours and this one for my 3 year old.
MAM| I'm wondering when my 1 year old (he's already 1! Can you believe it?) is going to get more teeth. Pretty sure my first born had a mouthful around this age (then again, he got a lot of teeth, really quickly). So we've been having my little guy gnaw on this teether whenever he's in the playpen and he seems to really enjoy it. Maybe that means more teeth are coming sooner than later.
Santa Clausthaler| Well, Ho, Ho, Ho – here comes Santa Clausthaler. My husband will be getting these non-alcoholic beers in his stocking this year!It's a jolly, tasty beer that delivers holiday cheer without the hangover, perfect for an already tired parent of young kids! Did you know – Santa Clausthaler is the first and only Christmas-themed non-alcoholic beer out there.
Civilized Coffee| HOLY YUM. As a parent of two young boys 3 and under, coffee calls my name daily. My husband and I have their fresh brewed gift box and it's as delicious as it looks. Go out and buy one for yourself or a coffee lover on your hands.
– For the athletic fam –
Friction Labs| I remember working with Friction Labs back in 2014 or 2015 and as a climber I loved it. But I didn't realize all these other sports use chalk too. Friction Labs chalk is used and trusted by top athletes in the NFL, MLB, pro tennis circuit, professional weightlifting, and the new Sport Climbing team just returning from the Games in Tokyo! Friction Labs is responsibly refined and made in the U.S. athletes in archery, baseball, billiards, cheerleading, climbing, CrossFit, football, golf, gymnastics, hunting, weightlifting, sharp shooting, and racket sports will love to see Friction Labs chalk in their stockings this holiday season. So if you have a family member that is involved with any of the ones listed, get'em some refills of their fave chalk.
Bollé Sunglasses| I've had the same pair of sunglasses for over 6 years. Time for an upgrade! Got the new Bollé MERIT! MERIT is a small-sized round frame with character and an easy-to-wear lifestyle look with performance features like straight temples and Thermogrip® rubber for stability in action. Excited to try these out on my next run.
– Shower fresh – 
It took me months to start bathing my two boys together. Why didn't I do it sooner? To be honest I never truly thought it was the best idea until it happened. Killin' two birds with one stone if you will. Some of the new products we've been trying out and using on my two boys make them smell absolutely heavenly after their baths. Noodle & Boo has this extra gentle shampoo I use on the boys which is fantastic for a toddler who hates having his hair get wet (or have water drip into his eyes). Original Sprout is another new-to-us but love the stuff for bath time, and finally Tweezerman has a mini manicure kit for babies/toddlers which comes with a mini-sized nail clippers perfect for their sized nails, and a nail brush great for toddlers who love to dig in the dirt and get mud underneath their fingernails….scrub a dub dub little kiddo!