Well I woke up late today but I didn't let that stop me from creating havoc in the kitchen! I got my baking hands ready and started away on muffins.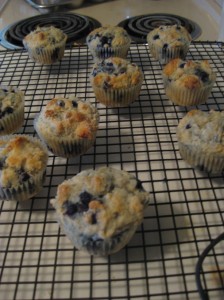 Made a dozen of those (recipe here) and while they were cooking I also prepped some oatmeal chocolate chip cookies (and a recipe for those would be here!)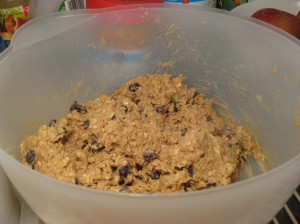 "Chillin" in the fridge. Ha!
Cooling off on my fancy (and huge) CSN stores rack that I reviewed here a while back.

Since I didn't think that would be enough for me to do in one whole hour, I decided to create something that I have never created before.
If you are a follower on my twitter, and have no idea what a GREEN MONSTER is…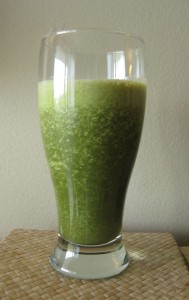 Well. This is what it looks like.

What does it consist of? Prepare yourself ;)
2 small handfuls of spinach

some milk

3 ice cubes

half a frozen banana

1tsp cocoa powder
Now you'd be surprised, it doesn't actually taste like spinach. Clearly I haven't used a blender in years because once I drank it, it had chunks of ice and banana, so it wasn't mixed up as well as it should have been. Plus I think next time I may add orange juice or vanilla extract.
Few things I disliked but will still continue to make. Can't give up after a first try:
I hated the foam on top.

The after taste actually tasted like barf. But it could have been something else – because it didn't happen for a while after? That's what I'll keep telling myself for now anyway.

Why is it really dark? Other Green Monsters I've seen online are a lot lighter.
We went to the market just as it was closing and picked up some fresh salmon from my Boyf's swim coach, who always gives us a huge deal. I ended up making the salmon a different flavor, but you couldn't really taste it all that much. I mixed a bit of milk, cream cheese and dill together to make a sauce topping for the salmon — but it wasn't that flavorful. I also added some yellow curry powder to the veggies and made some basmati rice to go with it. Scrumptious meal and very filling.
Salmon Supper.
One more for good measure.

And finally, and outfit of the day. I rarely do these on weekends because I never take the time to do my hair/makeup, that and the fact I normally lounge in jeans and a tee, but today was different!