Remember when I said I had an upcoming review from CSN stores? That was a while ago, hey? It took me so long to decide on what to pick out that I was literally weeks choosing something!
I kept resorting back to the Le Creuset 8 ounce casserole dish even if my Mom told me it was going to be the size of a pop can. I didn't order that, thankfully. What the heck can you cook in an 8 ounce dish? It's about the size of my palm. Literally!
I was told I could pick out something worth $40.00 which included shipping. This excluded International Fees however, and in order for me to get the product for "free", I had to choose something under $20 because of the additional fees that were tacked on.
Since I've been baking some goodies lately, I've been in dire need of a cooling rack. The one that I had before was miniature and only held 10 muffins out of the 12 that I usually make. It was an annoyance for sure as I want them all to cool evenly and not get all moist and turn to mush in the muffin tins. The choice was easy. I decided to be practical instead of ordering yet another bowl which I was on the edge about. I wanted to put my fruit in it! Or pasta! Yum. Doesn't it look pretty? Sigh. I just don't need it though.
I was also tempted to get a new leash for Alfie though. They've got some pretty ones.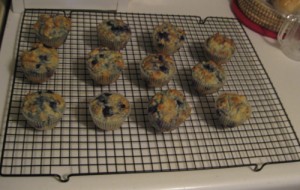 So here is my brand new … super large cooling rack in all its glory. Much nicer than the one I had before.
I'm feeling quite productive this morning. We went and got some groceries last night and I was feeling like some blueberry muffins when I woke up at 6:30. So there they are, cooling off on the giant awesome cooling rack.

As I mentioned before, there are over 200 stores to choose from and so many things on their site that it made my decision a bit difficult to make. I swear I could look at their cookware site and tell you what products they have and how much they cost, haha. After weeks upon weeks of trying to choose what to order off CSN's thousands of products from their hundreds of stores, I ended up getting an extra large cooling rack for $13 (which ended up coming to be $37 with all the taxes and shipping). CSN stores is able to ship to Canada, but more importantly through the States. Since I'm located in Canada, I would not suggest that you order from CSN stores. The international fees (duties and what not) will get you every time, and they're really high! The shipping also varies on the weight of the item.
Overall though their Customer Service at CSN is pretty friendly. I was dealing with one woman throughout the whole process, and it was very casual and laid back, yet professional in a sense that I trusted them. If I had money to splurge, I'd definitely buy some Le Creuset bake ware/cookware, but I don't — so I'll have to stick to places around my city for that stuff. For now at least.