I did a post not too long ago when I was contacted by CSN stores to pick and item out from their ginormous website, and I reviewed my cooling rack here? Well in June I was contacted again! Love this company.
It took me forever to pick out another item because every store they have listed has thousands of products.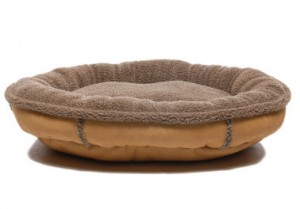 I ended up going with a dog bed for Alfie. It's a Faux Suede and Tipped Berber Round Comfy Cup® in Tan Carolina Pet Company. It's pretty swanky looking hey? It also comes in a few other colors, but I thought the tan would be classic looking and would go with basically anything in the apartment.
I was positive that Alfie would enjoy this new dog bed of his, as he likes his comfort. It arrived on Friday and I didn't get a chance to open it and let Alfie have at it until Monday around lunch time.
I decided to document this meet and greet with a new smelling bed.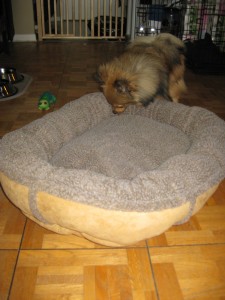 He wasn't so sure on what it was for, and if it was even for him. I kept telling him good boy when he was sniffing it and putting his paws up on it.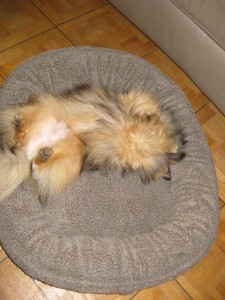 Rolling around and getting his scent all over the bed.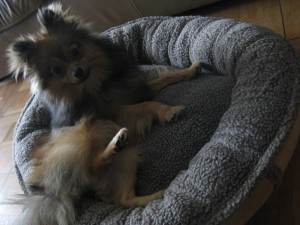 Clearly, he quickly got used to it and laid on it while I ate my lunch.
It's huge, fluffy and so comfortable. I got the smallest size, and it was massive. Perfect! I was worried it would be too small, but then again Alfie is only 5lbs. At first he thought it was a toy and started chewing on it like everything else he does.
I decided to take it away from him if he was going to end up destroying it. The bed is such great quality that I didn't want him to chew it up within the first week. If he keeps acting that way I'm going to have to wait til he's older to hand it back to him.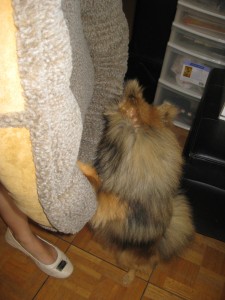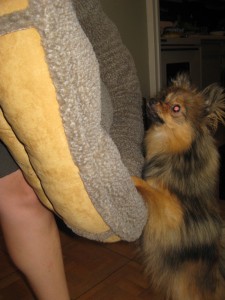 Git off you silly kins!
Alfie. DO NOT CHEW.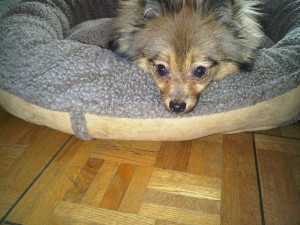 "Sorry momma"
However, the next morning I put the bed back on the floor, and he did end up gnawing at it again,  until I scolded him and said "AH AH!".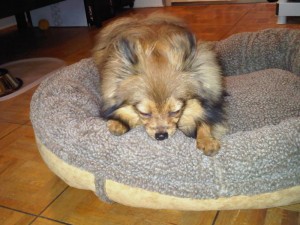 I think then, he decided it was safe and fine to sleep/sit on, because I left him alone for a few minutes — came back and he was sucking on his bed.
Cuddling into his bed…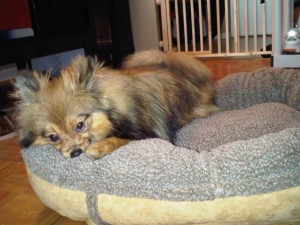 …and looking at me.

My other dog Peepers (RIP) used to do this to her toys. I mean, Alfie does this to his bed when he's inside his crate. But maybe he knows that this too is his bed? Gotta say though, it's a little strange.
So Alfie and I wanted to say THANK YOU…
…to CSN Stores for having the opportunity to try out the adorable dog beds from Simply Dog Beds.