I love soft comfy clothing, and I love that Excess Baggage sent me a Bamboo 'sweater' to review.
This is the stock image that I grabbed from their website. Looks so casual chiq on the model, love drapey clothing like this for weekend days! The Bamboo V Sweater is actually by a designer called D6 Clothing. I've now noticed they have a variety of sizes back in stock. When I had originally said what size I needed it wasn't available. So I decided to go for a medium for a slouchy look.
It's a white plaid made out of 100% Bamboo Sorona, which is a luxurious blend of corn-based fabric, and it's made in Los Angeles!
Here's the tags that came along with the shirt. I thought it was a really unique way of displaying how the shirt was made, take a read!
Size one..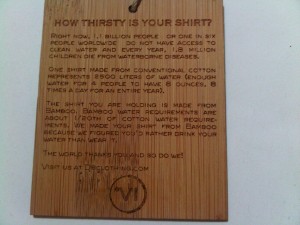 Side two…

I received the medium, as per my request since I thought the shirt would look super cute over sized. While it is super incredibly comfy and I feel so amazing in it – I think it's a tad too big to wear on its own. I decided to make a silly photo to show you how it really fits.
Say what? That's me mimicking what I was saying in the upper left photo. I think this shirt is ideal for a day on the beach, or even as a casual weekend top with a camisole underneath. I think it's absolutely darling. It's crazy soft to the touch, and doesn't feel like anything on.Don't mind me trying to do chin ups on the door frames. I'm channeling my inner climbing.
On a serious note here is what it looks like when I stand normal.
Doesn't it look great here? I could totally be that model online. It fits great, a little sexy, a little cute, all soft and chic looking. I think I remind myself of a surfer chick wearing this. Love the pop of neon green here too.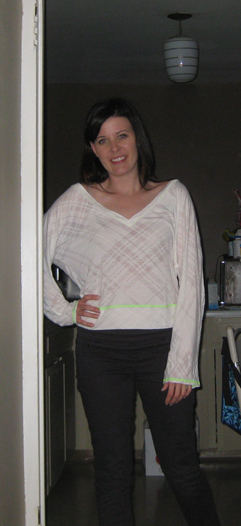 Another pose because you probably can't get enough of me.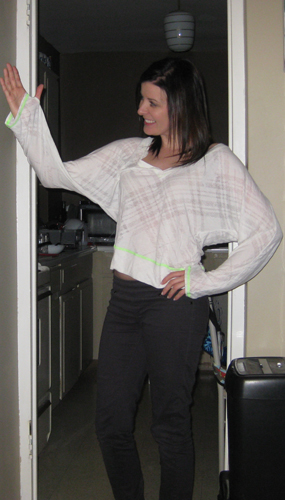 The arms are different on this. A bit of a dolman sleeve. They make me laugh. Oh and they have thumb loops! I LOVE when anything I wear has thumb loops in them.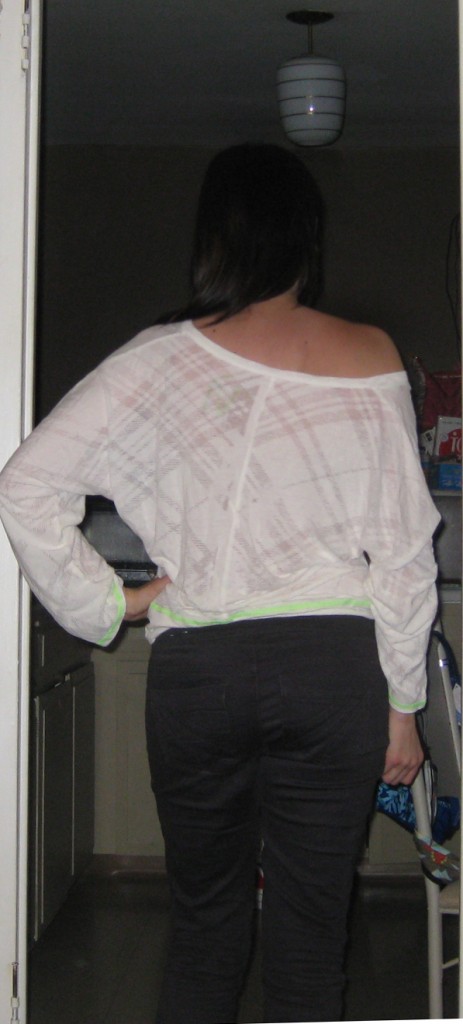 From the back. I've always wanted to wear an off the shoulder top! Again, it would look cute if you were wearing a bikini and have this be your cover up. Casual and comfortable.
You can buy this shirt online here for $42! Thanks Excess Baggage for sending me this fabulous Bamboo top to review!