I've decided to do a little something new with my outfits of the work week. Let me know if you like this style better, or if you prefer that I go back to the other way. I think you can see more detail in my outfit from Wednesday-Friday.
I'm still working on trying to figure out the new camera that I got for Christmas from the Boyf. I had to photoshop every image this morning, to brighten it up. Especially the bathroom photos. It's a lot of work! I don't know if I should go back to my old camera for my OOTD posts or not…
Before I get into Triple F Friday I want to tell you about Vine app (more info) that I now use on my iPad. It's the coolest thing ever and right now I can only find it in the apps under iPhone. So download it if you have it, and add me under spiffykerms! It's a six second movie you can film, pause and it pastes it all together to make . For instance, I had no idea you weren't supposed to stir Chobani greek yogurt. Just fold it over. Huh! I only have one video up right now since it's difficult to film on the iPad as it is much more chunkier. Ah, just go download it :)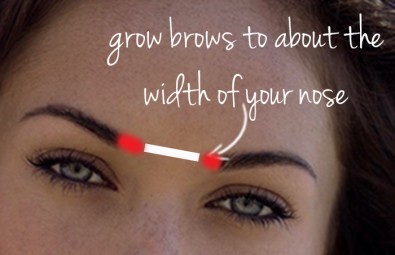 Cara shows us all how to get perfectly groomed eyebrows, no matter how messed up they may be! I need this. I keep taking chunks off the top of my eyebrows when I wax them at home. Oops.
Meg did Thankful Thursday on her blog yesterday. Meg, oh boy — I am also thankful that this week we could get rid of our winter jackets for a day or two. It was soo nice!
Aly from The Newlywed Life cooks up a delicious supper the other night. Doesn't this sound amazing? "Panko crusted, ricotta and spinach stuffed chicken" She also had mashed cauliflower with it. I've yet to try that – in fact I may end up mashing some of my cauliflower into the potatoes I plan on mashing up this weekend. Girl has also got some style too. Love her blog, give her a follow or comment!
Submit yourself to my weekly Fun, Fit, Fashionable posts. You can certainly submit your own, next week. Just shoot me an e-mail to spiffykerms@gmail.com. Just include any of the following:
Your name

Your URL, if you have a blog

Description of you being Fun, Fit or Fashionable

A photo, which is optional of course