I rarely post about my daily activities. I had planned on posting this earlier in the week since I had a pretty eventful weekend last weekend and decided to document it, and of course share a little more of my life with you guys.
Friday during lunch Julie and I had a co-worker date lunch at Boston Pizza. Haven't been there in a whole year, since the last time we went together (link to Boston Pizza last year).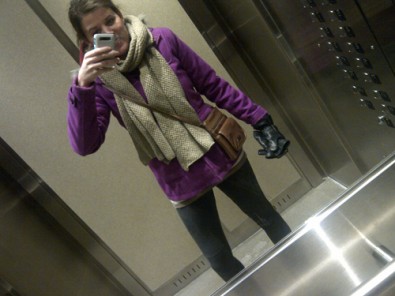 That night I headed over to her place in my comfy clothes and we hung out and watched This Is 40.
We didn't like the movie, but had fun chatting and warming our toes with her fire place blaring and eating oreos.
Saturday I met up with Stephanie to grab some groceries at the market, and then headed for an early lunch at Thrive to catch up. If you ever go to Thrive, get the chocolate avocado smoothie with cacao bites. It tastes like it's bad for you. Steph ended up buying me this fancy black tea (peach flavored). I've yet to try it since I'm kind of scared as I'm used to Orange Pekoe and I also don't have one of those fancy siv things. Oh Stephanie is soo much fun. There was so much laughter and chit-chatter going on, since we haven't seen each other since she left for Zimbabwe in September. (She's back now, in case you couldn't tell…).
Saturday afternoon I drove to Guelph and shopped a bit at the mall. I picked up a dress (who me!?) and two belts at this one store that kind of reminded me of the stores I shop at online (cough… eBay). I dropped by my relatives place to spend some time with them all and also to give my (pregnant!!) cousin Vanessa her EOS lip balms that she won off my website before Christmas.
Oooh that night, I made a pretty colorful supper with roasted carrots, purple potatoes (they were purple inside too!)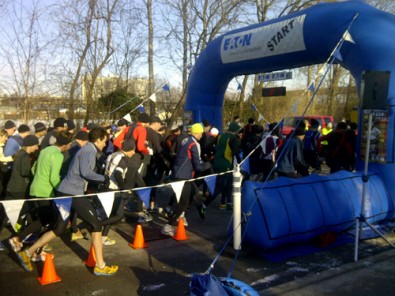 Sunday the Boyf and I drove to Burlington for his 8km road race where he ran it in 29 minutes. Fast bugger, I tell ya. I couldn't see him come in through the finishing chute as my eyes were watering for an entire HOUR. I got ready in a hurry that morning since we slept in a little bit, and I slapped on my face moisturizer, and rubbed it all over my face including my eyelids. Didn't know you were supposed to avoid eye contact with it. I read that later. The tears were just flowing down my face for the entire time. I should have covered it up with sunglasses but they were left in the car.
We ended up going to Ikea to grab some straws (hey they're cheap there) and light bulbs and grab a delicious frozen yogurt cone from the cafeteria. Very tasty. Then we popped into the mall so I could buy some $3.80 vneck cami's from Forever21, but they were out of stock. Unfortch.
I used to make the fluffiest (okay that's a poor choice of words) pizza crusts in the oven (on a baking sheet) and ever since I purchased a pizza stone I have a nice thin crust that doesn't flop when you handle it. However, the crust is a little too thin and it's so difficult to manoeuvre on the hot stone so I'm just stuck there. Do I need to double up my pizza crust recipe? Anyone know how to fix that "issue"?
For dessert the Boyf had the brilliant idea of making chocolate fondue and using up our berries for dipping! It was a great decision on his part.
BUSY weekend wha? This weekend I'm going to get organized. I need to keep up with my meal plans, and mark out an event calendar for February. I didn't do one for January so I completely forgot what the Boyf was up to in the evenings, which is inconvenient as sometimes I take my sweet time coming back home from CrossFit and he leaves for swimming almost immediately after. Therefor we need to eat in-between those two 'events'. So if I know what he's up to, I'll have supper prepped and ready for him when I come home and before he goes exercising.
What are your weekend plans?