Ehh! Good day!
The week flew by didn't it? Probably because I took Wednesday off work, to head into Toronto. Didn't realize I forgot to blog yesterday, til it was too late. I'm sure you all noticed ;)
I can certainly tell when I don't put time into coordinating my outfits that I wear to work. I usually prepare all my clothing on Sunday nights, but this week and last I felt too lazy to do so. Which results in boring attire ;)
Onto the OOTWW: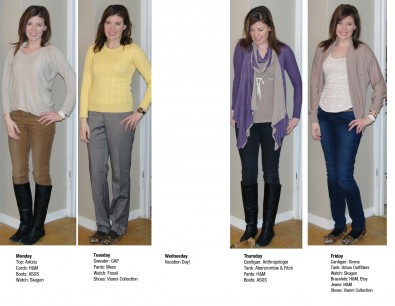 Next up, triple f friday (are you fun, fit and/or fashionable? Want to be featured on my blog next week? See below this post for details!)
Meg stands up for herself on her blog. Negativity is NOT welcome!
Leanne posts on how she keeps her hair healthy by only washing it twice a week. Dry shampoo is her new BFF.
Girl bought a new carrrrrr.
Wish my hair looked good air dried, as Aleeza's does. Jeally-cakes (me trying to sound hip. I mean jealous…)Â 
Submit yourself to my weekly Fun, Fit and/or Fashionable posts. You can certainly submit your own, next week. Just shoot me an e-mail to spiffykerms@gmail.com. Just include any of the following:
Your name

Your URL (if applicable)

Description of your blog post 

A photo (optional)