I mentioned before that I get dinged each time I make a shopping trip to the grocery store paying $0.05 per plastic bag, it certainly ads up. A few quick trips to my retail stores and I have reusable (plastic) bags that break after a few uses.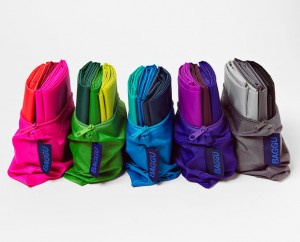 I discovered Baggu Bags only a short time ago and thought they were pretty pleasing to the eye, rather than using plain ol' plastic bag that tear and rip if you hold them the wrong way, these are much cuter, I mean check out the rainbow assortment!
Did you know that these are more sturdy than the five cent bags you have to pay for at the store if you forget your reusable's? Obviously they are, but I mean these bad boys can hold up to 25lbs of groceries. That right there is about 2 or 3 times the amount that plastic grocery bags can withstand.
With the selection of colours Baggu bags has readily available for us, you don't have to use these primarily for groceries. Stuff a striped bag with a bunch of tissue paper for someone's birthday gift and they'll have a reusable bag and a great gift from you! Or maybe you don't always want to carry around your bulky gym bag, and get dressed for the gym the night before — put your shoes or anything else in these bags and look styyyyylin'.
Check out my Paypaya colored Baggu bag. Gorgeous shade, right? It's huge too. It held four of my lululemon towels (they're a bit bigger than hand towels), plus some of my workout gear! It's madness.

These bags are made of 100% ripstop nylon, and are machine washable. Great if your milk leaks out of the bags like mine did the other day. Gross. I should have went back to the grocery and got a new bag :(
The Baggu bags are the coolest reusable bags that I have seen. They even come folded up in a tiny little pouch so that they're not all jammed in your trunk all messy like (I'm not even going to post a photo of all the reusable bags in my trunk right now – they all need these mini-bags to be stored in like Baggu has!)
Check out Baggu's website for more colours to choose from, and other variation of bags such as the drawstring sack, produce bags, and even striped reusable bags (MY FAV!!)