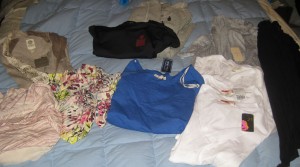 Poor quality photos, but you'll see me wearing these in some OOTWW (Outfit of the Work Week) and get a better look at them.
The three triangle items on the right are all from Anthropologie.
Black tee on top is a purchase made at Ironman Canada booth. The back says "PAIN IS ONLY A STATE OF MIND" :)
Underneath that black IMC top is a cozy North Face sweater purchased from SportChek. It was originally $79.99, and since I knew the Alberta sales tax was just 5% instead of Ontario's 13% I went for it. About to pay, the woman told me I only owed $66!! It was on sale!!
The blue sweatshirt is from Forever 21 and it has the neck "cut off" it (does that make sense?) it was $18 or so…
Three white tops from Forever 21 at $4.40, and $5.50: white vneck, white crew neck, white racer back tank.
I purchased 2 long cardigans also from Forever 21… they were $7.50 each!! If they had more nicer colors I would have bought all of them. But I don't like maroon or an ugly green color.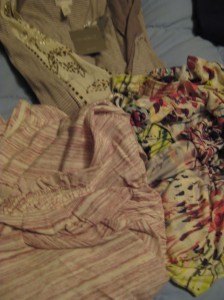 Closeup of my Anthropologie purchases. Top one is a cardigan that I wore on Friday, the colorful capped sleeved tee I wore underneath a cardy on Thursday. The pink/red striped item is a tank which was on sale.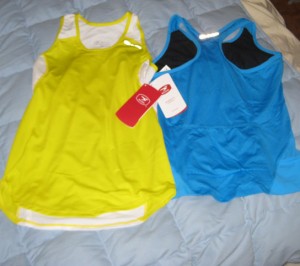 There was a Sugoi store in the West Edmonton Mall that was closing and the owner is opening his own Online store with his own gear (not sugoi), so he took our e-mail addresses down and will notify us of when it's going up! We were chatting with him for ages. Everything inside the store was 50% off, so I grabbed everything in my size and tried it on. A lot of things just didn't fit well, and I'm not going to buy it just because it was on sale — but a few things surprised me. Like this yellow tank? Who knew I looked good in yellow! Both of these tops I'll be using for running and working out at the gym.
See a Sephora bag there? That was my second stop of the day when I had the whole afternoon to shop at West Edmonton Mall. I bought Laura Mercier foundation, and a cuticle pen (since I'm dry as a lizard). The blocks on the right are canvases but made out of wood instead of… canvas. Then I purchased some manga pens and a super cute purple marker with a tip on each end. The DeSerres art store had a sale.
I also went to Purdy's chocolate store 3 or 4 times, and each time I bought something. That's my stash. Mmm…chocolates. I just went to their website and a Purdy's Chocolate store is now open at Union Station in Toronto. Uh oh.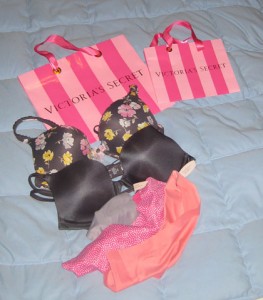 Of course I went to Victoria Secret. I went there twice in fact, and wanted to buy everything. Except that store"s items are pricier than other lingerie stores. But whatever, I went with it. Bought some comfortable bras and undies.  Aren't they pretty!!!!??? I especially love the floral bra, and I love the charcoal colored one too. Silky…
Alright, that's all I have to say for today. Super long post, but still exciting, right?