Good Saturday morning to you all!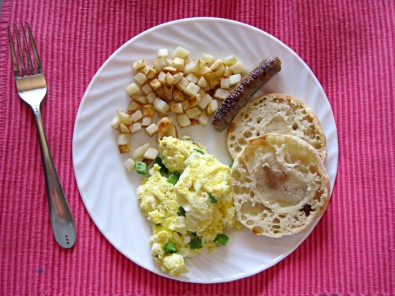 I was up really early this morning cooking up a scoff for the Boyf and I. He has to work every single day for an extended period of time, perhaps even through Christmas. So I thought I'd send him on his merry way to work, with a full tummy.
What does everyone have planned for the rest of your very last Saturday before Christmas? I loaned the Boyfriend my car since winds are gusting up to 70km/hr and it's pretty bitter cold out there with a temperature drop. I'm supposed to go on my solo run this week, since my coach can't go with me. I don't think I'll be going out today, and save it til tomorrow. I may pop by Starbucks later since I have a free grande holiday drink to use up :)
Scrambled omelet with green peppers
Hashbrowns
Sausage
Toasted english muffin
So I have another 8 Canada Bread coupons that you can use for any way you see fit. These one's don't expire until December 2013, so you've got tons of time.
Two winners will get four coupons each. The giveaway will end on December 24! So get crack'a'lackin' on the entries!
The English muffins didn't stand a chance at our place. They're all gone now and I only got them two days ago. They're so much better than regular toasted bread.
Had my first one (in ages!) at work with a cuppa tea and a candy cane :)
You can find Dempsters on twitter, Pinterest and Facebook.
I am a member of the MLF Connects program. As part as my participation in this program I have received compensation, however all opinions in place and ideas on this blog are my own.