Sunday: Chicken teriyaki stir fry (carrots, green pepper, tomatoes, broccoli, and basmati rice)
Monday: Pork Chops (on sale at Sobeys!), with roasted red potatoes, and carrots
Tuesday:Â  Foil pack dinner (if this turns out well, I'll feature it on my recipe page)
Wednesday: Quesadillas
Thursday: Tacos
Friday: Chicken nuggets (hey, a girls' gotta have a break from cooking sometimes)
Saturday: Honey Mustard Chicken (recipe)
And not to have this post all boring and about food. I think I forgot to post a photo of my purchases after I mentioned them in a blog post. So here we have'em:
Careful with enlarging them. They're friggen huge. I decided to just copy them over from my Flickr page. I was lazy and didn't want to resize them.

I have no shame. You all can see my newly purchased undies. Whatever. They're microfibre and I want to spend all my monies on them. They're so soft and comfortable, and don't leave a panty line! I am super confused with VS's sizing. I have everything ranging from XS to Med. in their undies. I had to return three pairs of small's and exchange them for mediums, that still look incredibly tiny on my butt. I shop at aerie stores all the time for regular underwear and I always buy smalls and they're always the same fit/size each time. Why fool with me, Victoria Secret… why?
Then I headed to BBW where I picked up some much needed smelly ahnd soaps. Mmmm. Can you guess what everyone's getting for Christmas!?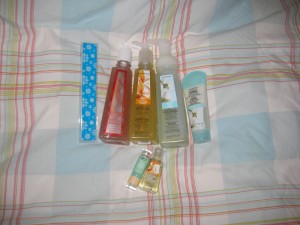 I picked up a christmasy/winter nail file because I've recently became obsessed with filing my nails rather than clipping them. 3 hand soaps (Frosted Orange Spice which I think is just a holiday scent, Wild Honey Suckle — a regular in this household, and Sea Island Cotton which has a very fresh scent) and with a purchase over $10 I got to pick up a hand cream for free. I think I picked up Sea Island Cotton. On the bottom you'll see a lip balm (which is so retarded. I should have tried this on anything other than my hands before purchasing it. But it comes out very shimmery and GOLD on your lips. It's a bit insane, and a total waste of $7.50. Lastly, I purchased some hand sanitizer in wild honey suckle.  I can't stop smelling my hands after I apply this. Mmm so good. I need to go back and get some more deals before they stop having their grand opening sale (Buy 3 get 2 free, or Buy 2 get 1 free). I know my Mom would love some of their bath scents…
What are your favorite things from Bath and Body works, or even Victoria Secret PINK line?