MAKE UP FOR EVER has a new line of blushes out, and if you haven't already heard — they're pretty wonderful. The HD blush is a great little product that just blends so seamlessly onto your cheeks. It gives a natural finish to your make up and comes in 16 colourful and natural shades.
How to apply cream blush
I apply cream blush with my ring fingers, and then finish off the whole look by blending the edges of the blush in with my 158 brush. Note that I only use liquid foundation. However due to the new formulation of the HD Blush by MAKE UP FOR EVER, it works equally as well over powder foundation without lifting the foundation off your face. I have no idea how. To keep the blush from fading, it's always nice to apply a very light layer of setting powder over the areas you're concerned about.
Why I use cream blush
First of all, I find cream blush much easier to work with, and it adds moisture to my face. I have dry skin, so I prefer a more luminous dewy type of look to the make-up when I tend to wear it. It works well for me, and doesn't accentuate any dryness I may have on my face.

During and after using MAKE UP FOR EVER HD blush
Here I am applying the universal shade (seriously, apparently it works on any skin tone) in 410 Coral.
Above, I'm blending out the edges with the 158 double ended sculpting brush.
There are tons of different ways to wear blush. Here are some suggestions from MAKE UP FOR EVER. I go for the classic look. (Click to enlarge image)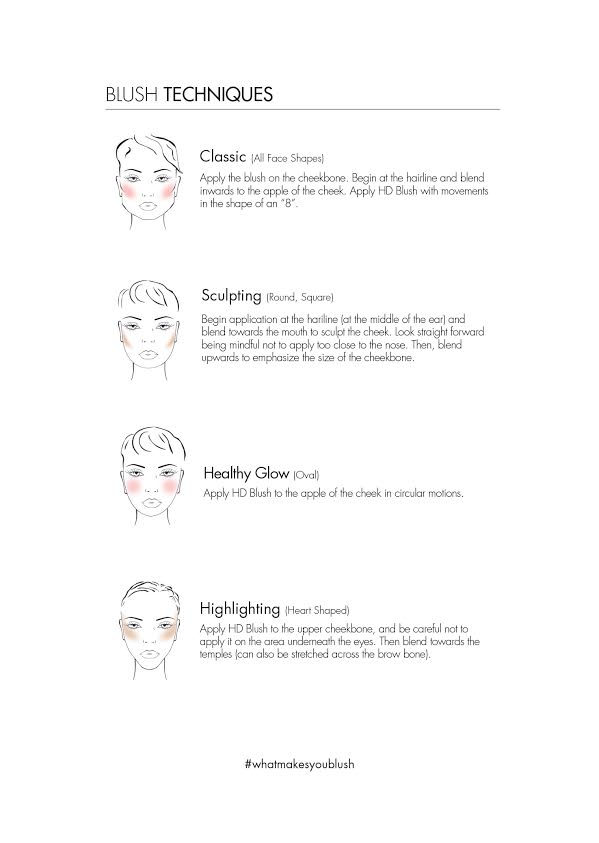 Find MAKE UP FOR EVER HD Blush for $36 USD / $31 CDN at Sephora or MAKE UP FOR EVER boutiques.
Disclaimer, I received the HD blush from MAKE UP FOR EVER. Opinions are my own.