While I'm not an advanced car reviewer by any stretch of the imagination, I can still provide some feedback on what I think of the vehicle itself.
I have to admit, the Toyota Prius I had in May wasn't my favourite car to drive. Something about it made me a bit uneasy, whether it be the structure of the car itself or not feeling comfortable driving a new-to-me car. But there was something about it. However, hopping into the drivers seat of the Camry XSE was a completely different ball game. My husband assured me that he thinks I prefer driving in larger cars, as I grew up with my family driving boat-sized vehicles. That's not to say that the Camry is huge by any means, it's just larger and more in charge. Haha!
Onwards and upwards.
The week I had the Camry simply flew by, and I was a little disappointed to hand it back over to Toyota. But we did have a bit of fun with it for the week while we could. In fact, I ended up taking Alfie on a mini road trip down to Santa Cruz for the day, and filmed a full days adventure.
Yes, this is the video that wouldn't save properly — I can thank my husband working his magic skills in getting this to work and upload to YouTube for me, finally! I'd love for you to watch it, I know it's a super long video but I think it turned out awesome (can I pat myself on the back for that one?).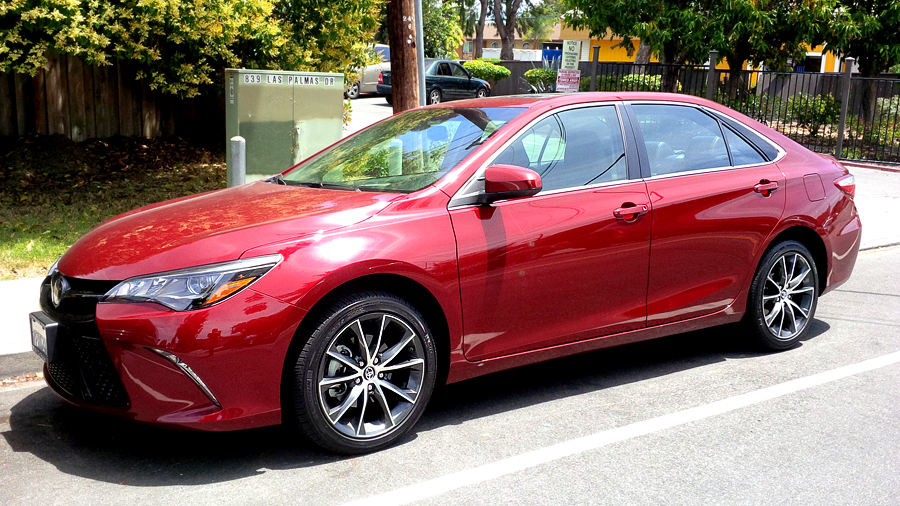 You may notice that the Toyota's have changed in the last few years, I feel like this model in particular has adopted the front face of their more luxury brand, Lexus. A far cry from a boring family car. This Camry is definitely large and in charge, especially has some give to 'er getting up to 110 clicks on the highway (65mph for the American folk). Toyota has added some interest to the Camry, the body is redesigned in the 2015 version. It has ultra-suede and sport seats, it's not your typical camry. I mean, it's a pretty good looking mid-sized sedan, and it feels like a sportier car.
The layout of the front seats to the dashboard on the Camry XSE was much easier and comfortable for me than others. Digital display in the odometer where it gives you navigation, and temperature readings. You can see that the car itself has a sport mode where you can use the paddle shifters behind the steering wheel to act as if you're using a manual transmission. Another thing about the Camry is that it has blind spot monitoring system to notify the driver if there is a car in their blind spot. A feature I had come to really enjoy.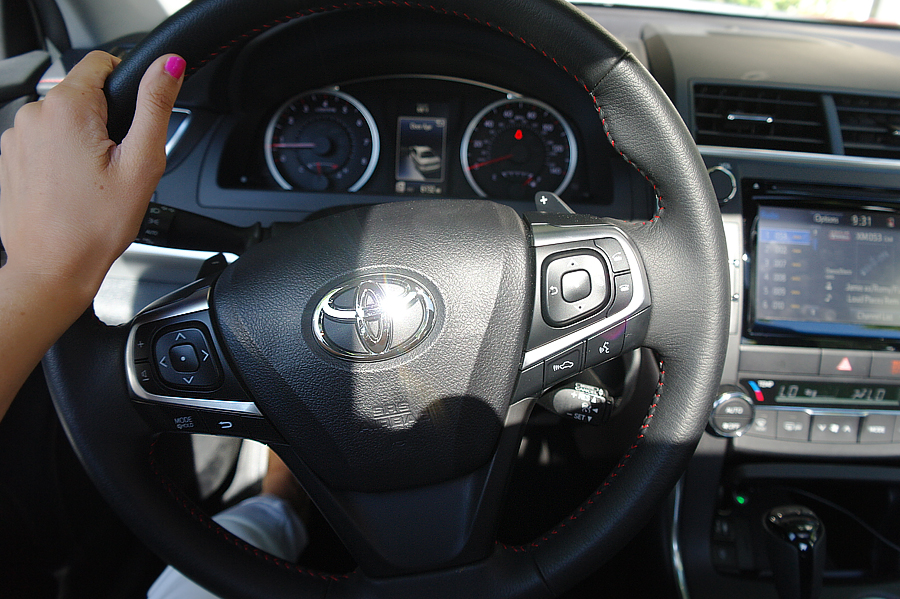 I'm not sure if all cars are doing this or not but both the Prius and the Camry had smart key-less entry which means you can keep the key fob in your pocket and unlock the drivers side door with your hand. The other doors stays locked until you unlock them on the drivers side. Thumbs up to the Toyota Camry XSE! I'm impressed.
If you're looking for more information regarding the Toyota Camry XSE check out their website.
Disclaimer: The 2015 Toyota Camry XSE was loaned to me for a week to review. All opinions are my own.