Want to have a new summer fresh scent but don't want to invest too much money? Perhaps you're all about layering scents like I am and simply don't have a budget to get the fanciest of perfumes at Nordstrom.
In steps Demeter fragrances. I reached out to them months ago, so I've done the sniff test on the ol' bod for weeks on end, and I can finally attest that some of these light scents will be my signature scent for Summer 2015.
Demeter has an incredibly massive online store where you can get some pretty wild scents like Marshmallow, Blueberry, New Zealand, Great Barrier Reef, Vinyl even! Who would want to smell like vinyl? I mean, psh this is so weird but really cool in… well its own way I suppose really. Right? I'm not into anything that smells remotely like food, so those one's are out of the question. They sent some to me, but I immediately brought them back home to Newfoundland with me to give away. My sister in law grabbed up the Mountain Air one, which was a little too musky for my liking and the New Baby scent = a little too weird for my liking.
But not to diss them entirely, they have some fantastic scents that I really love. Let's get into those one's, shall we? First I'll quickly describe the type of scents I like: citrus/fruity/floral and fresh. Pretty simple I suppose, hey?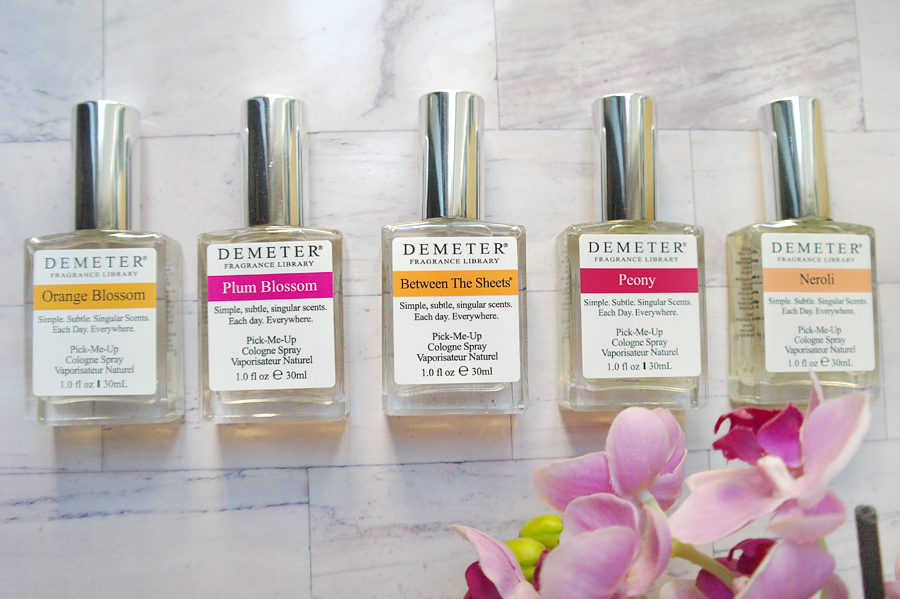 I got to pick out a handful of scents to try out and I reached for Plum Blossom, Clean Skin, Between The Sheets, Peony, Orange Blossom and Neroli. I was originally thinking that Peony and Orange Blossom sprayed on top of one another would somewhat mimic the expensive Jo Malone fragrance. It doesn't. But they are both really pretty scents.
Keep in mind the scent won't stay too long on the skin a few hours max. I feel like since these are just 30ml bottles, they could be brought on the go with you, to spray every hour to refresh the scent on your skin.
Shop the store itself and browse the entire massive collection, or look through their all classic scents, top 30 scents or some of the scent collections.
Have you ever heard or tried Demeter Fragrances? Thinking about giving them a go, or what? :)