So much Fossil love has happened since I last blogged about them. Though it may sound sponsored as it always may seem with Fossil. It's not. Just truly love the company and their products.
Remember when the CEO, and my Boss picked up some Fossil goodies in March? Then I finally showed you what was available for the Fossil summer launches!
Well friends, apparently Fossil thought it was my turn to have a little something special from them too. My friend Lori e-mailed me a birthday parcel with some Fossil treats!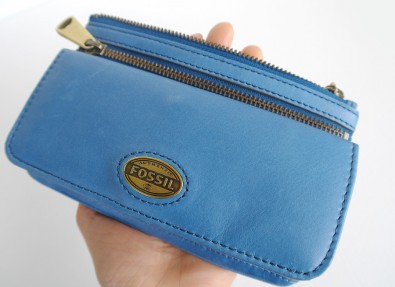 Please wish my new Fossil Explorer Flap Clutch in bright blue a happy one week birthday as of today. I filled it up with my cards and my dollah billz the moment I ripped open the FedEx packaging. No holding me back. Use it or lose it baby.
My nails have already made a few minor scratch marks on the supple leather. It was a little distressing, but the soft leather will eventually be distressed on its own. Hence that's the look it'll age with. Soft, touchable leather. 
The explorer collection is by far my favorite by Fossil since it has so many compartments. It has a huge pocket at the top of the clutch which is wide and deep enough for your phone amongst other things.
I use the second zip for coins.
Top zipper, where I mentioned I stored my blackberry. Supporting local yo! No iPhones around here.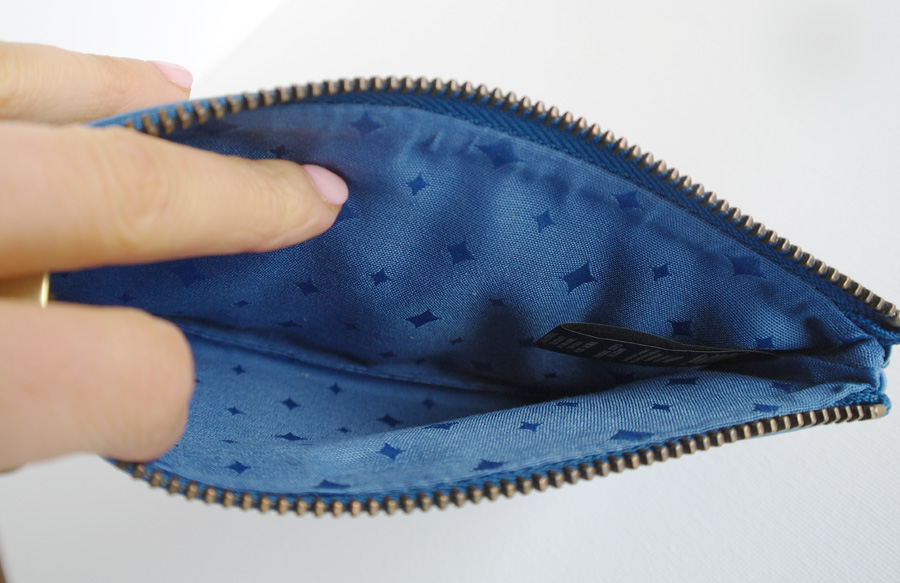 Side view. Ain't he pretty? I say he, because all my other Fossil's are female. I mean, c'mon a pink explorer flap? 3 triplet watches named Stella? Girl needs a bit of diversity, am I right?
I was way overdue for a new wallet since my blue coin purse turned wallet was getting a little ratty. I had my eye on the Fossil (which I blogged about, no surprise there). And boom, that was sent to me as well. Fossil Canada Headquarters, you are way too kind to me. I appreciate it more than you know, Lori. Sending virtual hugs, friend!
This morning another surprise came to my attention. TWO parcels from Fossil in less than a week? I'm one spoiled birthday girl.
My co-worker and I are matching Fossil-licious fanatics!
I need to get a photo of my entire co-workers Fossil goods. Because it's quite unreal at how much all of us love the brand.
While my Mom was in Florida during the first few weeks of April, she e-mailed me the first day of shopping once she came back and said "Look what I got, hehe" and what do ya know. I've got my Mom hooked on it too.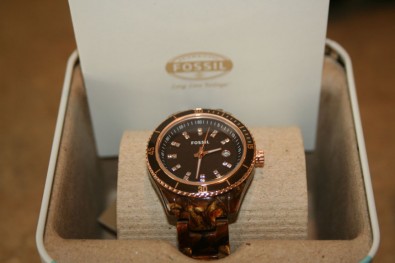 Laura's birthday was a few days before mine and her daughter bought her a lot of jewellery at Fossil! I was pretty impressed.
A charm bracelet with four adorable charms. I spot the locket, the giraffe, a shovel and pail, and a little birdy! She also has one of the Fossil Stella watches.
Oh, and that's not all. Her daughter also bought her a necklace with charms too. Such fun pieces.
Laura (shown in the photo above) also picked up this explorer crossbody purse for herself. It matches my purse. I'll have to get a trio photo of our items together again,  just so they can hug, and remember their blue explorer cousins.
I am a Fossil influencer. I know it. All these people have bought Fossil items because of my obsession. Or because they just love Fossil, but I like to think it's because of me, ha!
My bosses daughter

(who is my awesome co-worker)

L

, my co-worker

Julie

, a co-worker

Laura

, my other co-worker (shown in today's post)
Cathie, another co-worker

Jeanne

, a co-worker who also reads my blog!
Even the girl we interviewed a few weeks ago brought in a Fossil purse that I spotted. There's no denying my hawk eyes. When I spot it I'm all Hey, love your purse girlfran. Instant connection.
Do you have an obsession with a product/item/thing as much as I do?
What is your favorite store to shop at? I love Fossil (who doesn't?), H&M and Target.