It's International Women's Day today. Did you know that?
Going on that theme, we're bringing it to work with us. I work with 34 people, and 32 of them being women. So today is going to be one heck of a day at work. I cannot wait to document it, take photos, and tell you all about it. But since a lot (a lot) of co-workers read my blog, I don't want to ruin anything for them by letting it all out this morning.
Let me just tell you, that they're going to be shocked at how fun the day is going to be :) That is all.
My bosses birthday was yesterday and we went out to the mall together for lunch. She bought a few cute things at Fossil, as did another person at work. I took photos, I'll show you them at a later date though, because otherwise we won't get this OOTWW & TFF done, will we?!
I'm wearing a lot of purple today. Being that the purple is THE color of International Women's Day. Eee! Guys I'm in such a good mood this morning. I think it's because of all the CrossFit workouts I've done this week, paired with a ton of fun at work, and then tomorrow I'll be volunteering at the climbing gym for an event!
Alright. OOTWW time.
Think I have enough "riding boots"?

I'd also like to show you Laura my co-workers OOTD from last Friday.
Andies top, Yoga jeans from Melanie Lynn, Rockport shoes, Fossil Explorer Tote, Swiss watch (she has a Fossil one too, that she should've worn!), Canadian Clay & Glass Gallery Necklace, and ring is fromSea Jewels.
Courtney is bringing back Beast Mode(!!!) her workouts this month.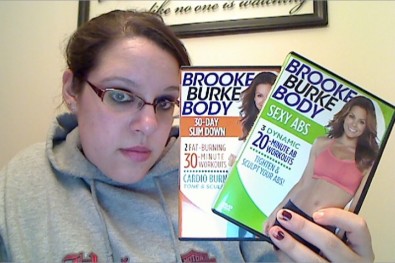 Erica won my Brooke Burke DVD giveaway a few weeks back and she's using the DVDs a lot! Well done!