After the breakfast was done at the Make Up For Ever event, I was already in my favorite area of Toronto, Yorkville. So I decided to do some shopping at Anthropologie.
I tried on this mullet top. You know, business in the front, party in the back. I bought a few other things while I was there.
I read a blog earlier in August, that Free People finally came to Toronto and headed over there for my next destination. I wasn't overly thrilled by anything in the store and left quickly.
I ended up popping into the Eaton Centre to kill some time before going to the Fossil head office. I went into another favorite store of mine, Zara. There was a few people hanging around these two blonde ladies, snapping photos. While others circled around and whispered. I knew it was someone famous so I got right in front. Made some questionable faces, trying to figure out who they were, exactly.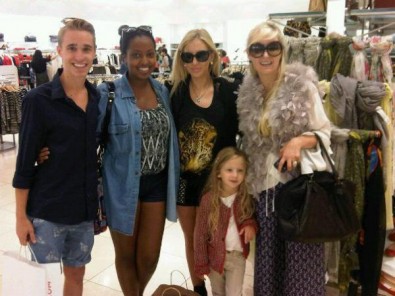 I saw this photo being taken by kworku31. Was it The Hiltons? It kinda looked like Nikki Hilton, but the Mother – no, I know her from somewhere. They were wearing huge sunglasses so I couldn't exactly tell.
Bah! It was freaking the reality TV star from The Real Housewives of Vancouver. I saw Jody Claman, and her two daughters. I watched  a few episodes of the show on my iPad, and thought it was pretty nuts so I haven't watched it since. I also didn't take a photo, because I get weird in those situations.
A week before going to Toronto for the day, I e-mailed Lori — the PR Manager for Fossil Canada who I've been talking to on the phone and via e-mail on a regular basis for a few months. Get this. I asked her if she wanted to meet up.
As soon as I sent the e-mail I started getting winded. I was excited because I knew that she would of course meet up with me. That was a big step, out of my comfort zone, if you knew me in person. I can be quite shy!
I took the subway over to the Fossil Headquarters and when I walked up to the receptionist's desk who was the sweetest person.  She said she recognized me but didn't know where from until I told her that I blogged and handed her my business card button, I told her I was meeting Lori for the first time.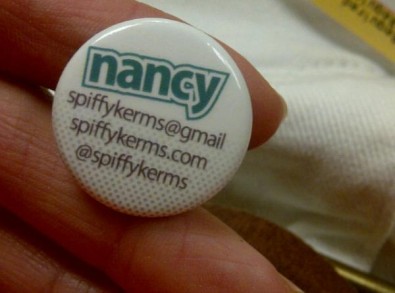 The receptionist (Sorry I cannot remember her name. If you're reading this, I think you're so sweet and great!) told me after she received my button that Lori sent out my Fossil blog posts to all the Fossil crew in … Canada. Dude. Where's my asthma inhaler? I also left a few of these buttons around Toronto as well, while I was there. Hee hee.
Lori took me to a local restaurant and we chatted about everything! I didn't feel awkward or uncomfortable at all. Once we left the restaurant we walked back up to the Fossil office and I was introduced to (Guys, I can't even type this with a serious face) the GM of Fossil, Sian.
I may have acted like that Newfoundland lady, from the Ellen show. (Skip to 1:30)
I did a little running dance on the spot, started giggling. Got embarrassed, bent over, and covered my face trying to stop myself from laughing so hard. Then I was asked if I was okay, if I needed to sit down and drink some water.
I'm tellin' ya. My parents are wondering "Who raised you?" They ask me this all the time.
After I calmed down, the three of us were honestly just having a great conversation in this corner office, made of almost all glass windows in downtown Toronto. I couldn't believe I was there. I even said during a break in conversation: Oh my LORD. Guys we are having casual chit chat in the FOSSIL. OFFICE! Then I got them roaring laughing again. It's hard to put into words how amazing it was. Truly. It's also hard to tell you the kind of vibe that was there, so relaxed. Like, c'mon. Me joking around with the GM, and PR manager! How crazy right?
Sian when she first met me said that SHE felt like she was meting someone famous, since shes been reading my blog. Girl! I feel the exact same way now that I'm actually inside the Fossil Office for real. FOR. REAL. She even asked me if she could hug me. AGH! Hug away!!!!!
I got a tour of Fossil, but unfortunately the show room was unexpectedly taken up so I couldn't go in and touch the leather goods. I did get to see a sneak peak of what's in store for the Spring collection. Doubt I can say any more than that so I won't.
I did get to go in to the "watch room" as I'll just call it, and scope out some of the other watches Fossil makes (?): Michael Kors, DKNY, Georgio Armani, Burberry, and Diesel! Lori was talking to me, telling me stories and my eyes were just so wide. It was the coolest thing ever, and I was by myself. Little ol' Nancy, from Newfoundland. Getting a tour of Fossil Canada in downtown Toronto. Can you believe it?
I didn't think it was appropriate to ask, if I could take photos of the inside of the place. So I didn't. But I did take a few snaps while I was gazing out the window of Sian's office.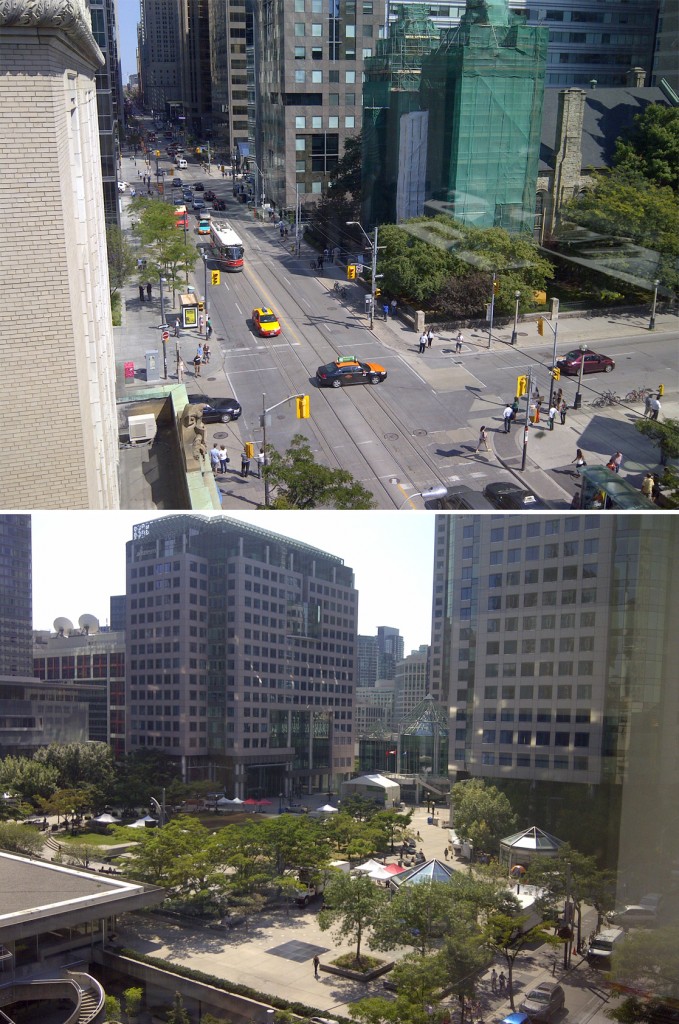 The location is right in front of the Roy Thompson Hall. The checkered red window you see in the bottom photo, is CBC!
Sian also handed me the second Fall 2012 catalog for Fossil. Cool. I didn't know companies did that – have multiple catalogs for each season. Remember the inside of the catalog from the first Fall 2012 collection?

I wonder if I can take some photos next time? Oh yes, even after all of my antics, I was invited back. I even gasped a few times when Lori told me to contact her the next time I'm in Toronto! I love new friends, of course I'll contact you!
Lori ever so generously gave me a brand new Fossil watch, I couldn't thank her enough. This is the Heather Leather Watch – Sand.
Time for a photo shoot with the watch, yesterday morning! lol
Pretty right? To be honest, I was a little hesitant on the looks of it when I first saw it. But paired with the right outfit (my fav, neutrals), it totally fits, and I really do love it.
I was still in the elevator going up to my apartment, I called my parents and I don't think I let them have a word in for a good 8 minutes. I was speaking so fast the thoughts were racing through my head, from throughout the day. It was incredible.
It was my Mom's bed time since I got home late, Newfoundland's timezone is a head of us here in Ontario. So I chatted with my dad further. He explained to me that one year for Christmas (I'm thinking between 1-3 years ago) that I gave him a Fossil wallet. I have no idea what that wallet looks like, and I cannot remember for the life of me buying it for him, but I did. Either way, he was telling me that — get this, in his 78 years of living he honestly says that this (his own words):  "F-U-S-S-I-L imprinted on the wallet" (it's Fossil, Dad!)  "is the best one yet". Ha, score brownie points!
I have to say, this whole day on Thursday was like a dream come true. I couldn't have asked for a better day, spent with so many amazing people new friends!