I took the 6:30am train into Toronto with all of the regular commuters last Thursday. I was surprisingly relaxed throughout the ride, and when I arrived at Union Station I hopped on the subway to get to my first location. A Make Up For Ever breakfast!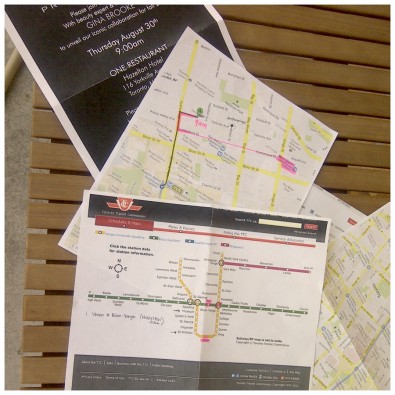 I'm someone who gets lots fairly easily and need a lot of reassurance when I'm going somewhere. So tons of maps were brought with me. I know, I know. I could use my BlackBerry for times like these. But in most cases paper is faster than phones and especially when you're feeling a little stressed your phone may decide to be annoying and load really slowly. I did not get reassured by the construction worker men who told me that I was a 25 minute walk away from my destination. I needed to be there in 15 minutes! Luckily I had my flats on and I speed-walked my way down Bloor Street at 8:40 in the morning. Outta my way!
Since this event was taken place at the very fancy exquisite  One Restaurant, Hazleton Hotel (the only 5 star hotel in Toronto) in Yorkville. I did some research about it before hand and noticed some of the reviews saying that "a lot of celebs" visit this place. So I knew in advance it was going to be quite spiffy … I did that on purpose. After my brisk 6 minute walk, not 25 (So exaggerated) I needed to freshen up.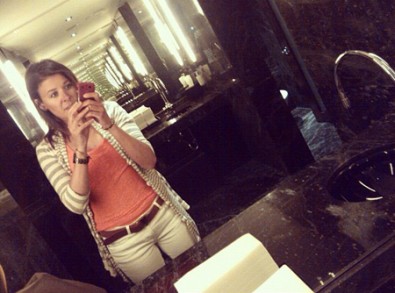 The washrooms were floor to ceiling black marble. Gorgeous.
I was invited by the girls at Make Up For Ever to join them in their unveiling iconic collaboration for Fall 2012 with special appearance from Madonna's Make Up Artist, Gina Brooke.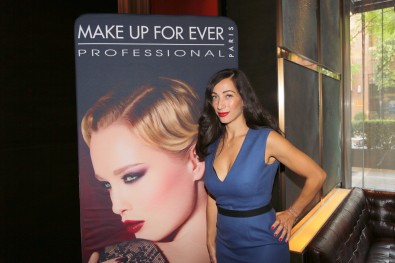 Madonna's makeup artist (!!) Gina Brooke.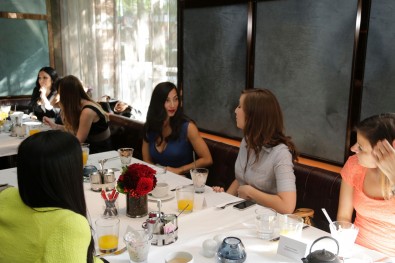 Look at how close I was to her!
We were served a three course brunch which was all so completely tasty.
It was amazing hearing Gina's stories about how she ended up working with Madonna, and she had the whole room intrigued. We were laughing, and even gasping at some of the things she was telling us. I was literally speechless, and probably staring at Gina in awe of everything she was telling us, especially since she was sitting right next to us. Luckily, other bloggers asked some really great questions. Like, What's Madonna's favorite foundations and concealers? Answer: Clé de peau. Such a luxurious product.  Must get me a sample of that at Holt Renfrew! Of course, like any make up artist, she doesn't stick to just one brand.
Gina likes to keep things light, especially on mature or dry skin. She mentioned that she enjoys using the Make Up For Ever Face & Body foundation, which I've heard great things about. Here are some photos that were taken before and during the event at One Restaurant.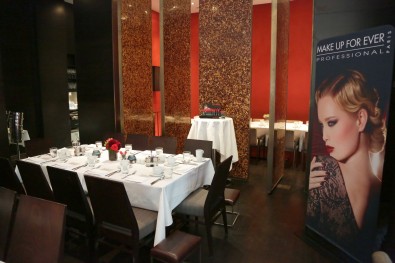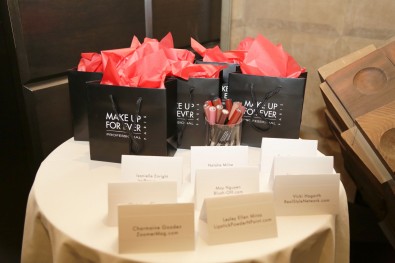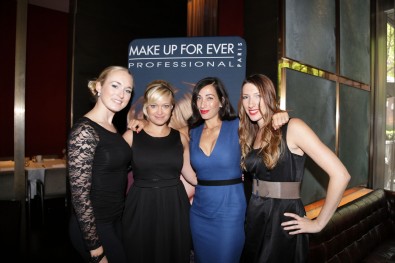 Here are the Make Up For Ever girls that were just so sweet. I was so happy to finally meet them all, after speaking with Lindsey via e-mail for months now!
We even got a loot bag for beauty lovers! Some of Gina's favorite Make Up For Ever products!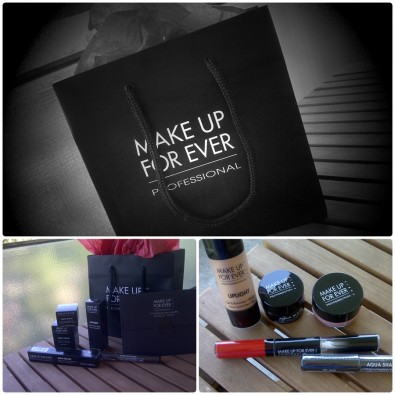 Gina was talking about how Madonna wanted to create her very own custom lip color for Make Up For Ever for Tour De Force. The aqua line by Make Up For Ever is smudge proof, water proof and will not budge. Gina was wearing the #8 (the Madonna color!) and showed us how it doesn't transfer.
The great thing about the custom red lip stick, is that Gina said it's wearable for every skin tone. Why? Because there are blues, and oranges and all undertones in it that will suit everyone whether you're pale or dark skinned.
I got my photo taken with Gina Brooke, and I'm so glad the photos that were taken of us, weren't awkward looking. My lips sure were quivering when I was posing for a few of these snap shots! Hooooo-wee. Also, I didn't realize how large my head is, haha.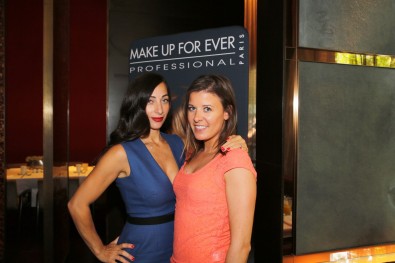 If you're interested in continuing on, reading about Gina Brooke and Madonna using Make Up For Ever products, read a more detailed version on Fashion Canada's blog — they were there too!
My blog post has gotten a bit too long! So stay tuned for my next blog post, where I thought I'd need my asthma inhaler while visiting Fossil Canada Headquarters!