Hey guys!
I'm right here in Newfoundland today. I'm here for Thanksgiving. Ha! I bet poor ol' Leanne is jealous that I'm home, getting a good ol' feed of my Mom's cookin'.

I like to fly back home as often as I can. Seeing how my Irish family (My Brother married an Irish woman, now my Sister-In-Law and my brother has two Irish sons, and two Irish step sons!)Â  now lives in Newfoundland. I want them to know who I am, rather than The Aunt that lives far away. So I'm always looking at flights and taking an extra day or two here and there and going home at least 2x/year. I already flew home for the May 24th long weekend, now Thanksgiving and I'll be back for Christmas.
It's been a much needed vacation as I was feeling pretty stressed, and I'd rather not give details but I just wanted to say I'm glad I'm taking a week off right now. It was basically perfect timing. Otherwise I would've probably had a breakdown, hah! I'm not even kidding.
Anyway. I wanted to point out something that was exciting to me. My Mom sent me this e-mail the other week while I was still in Ontario, but I thought it would be fitting if I blogged about it while I was home.
She was shopping around downtown St. John's and spotted some Fossil purses and decided to take a few snaps for me.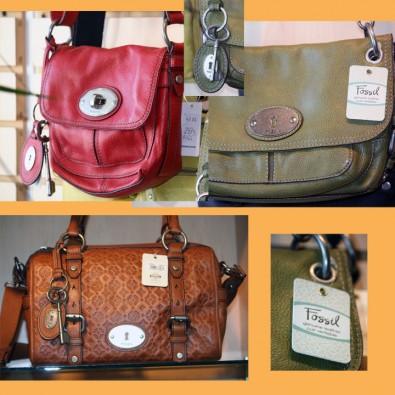 What she wrote in her e-mail to me, made it even funnier: "I found at a shop in Downtown St. John's yesterday. Some wicked missus. Don't have to go to T.O. get me a Fossil. LOL" Apparently there's Fossil purses being sold at Little boutique in the Murray Premises. I don't know if Little Boutique is the name of the store, or if it's literally, a little boutique. Either way, cool huh?
Anyway, as you would — I'm having a grand ol' time here in Newfoundland. I'm constantly posting photos on Twitter and Instagram so follow me there (You can find me under both at @spiffykerms) for more updates!
Until then, Happy Canadian Thanksgiving :)
Gobble gobble gobble, til you wobble!