Okay, we get it — she likes Fossil. Ya. Apparently I'm completely obsessed with this brand.
I don't know whether or not I haven't been noticing it before, or if it's because a Fossil store opened up in our local mall, or that I had something to do with influencing people to shop at Fossil. But lately everyone has been coming to me with their new Fossil purchases when they buy something in store and I just have to photograph it.
Like my boss for instance. She picked up the Georgia watch, and the turn-lock leather strap — both in Coral. A new fun color for Winter.
My boss even surprised her daughter (my other co-worker) with the new Marlow Bifold wallet. It's so tiny, but a perfect size for someone who doesn't want a large wallet, right? Fits a few card slots, has a coin zipped area and a place to store cash. Aimster, it looks good on ya, ladio.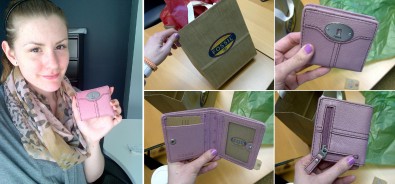 I was in Toronto last Wednesday and took the entire day off to explore the city and hang out with my friends at MAKE UP FOR EVER, and Fossil. My happy dance was in full force and couldn't wait to explode. Especially at Fossil.
I do not know how I spent a few hours inside their Canadian headquarters. Dangit! I forgot to take a photo of my favorite person there, Lori! Next time. Of course it was all thanks to her keeping me laughing, and the conversation flowing that the hours just flew by.
Get this. If I'm new to meeting you, I'm usually quiet and awkward and my brain flies a mile a minute trying to not have these awkward silences. But at Fossil I feel so natural and comfortable inside the office, with everyone! I don't understand how I was there for hours but I was, and it was great fun. Speaking in Italian accents, posing with new purses, and meeting some new friendly faces. Too bad I don't live in Toronto or I'd submit my resume in!
I did leave for an hour or so and came BACK to Fossil to have a look around the leathers. I felt so exclusive! This time, I was allowed to take photos and I snapped away. Of course, since these items aren't officially launched yet, I cannot show you photos.  But I can show you some blurred out one's from far away to give you a little visual of what it's like inside.
Sneak peek sorta thing, so you too can feel part of the team. :) Blurred out until the items actually launch. Then I'll do a separate post showing you my favorite pieces!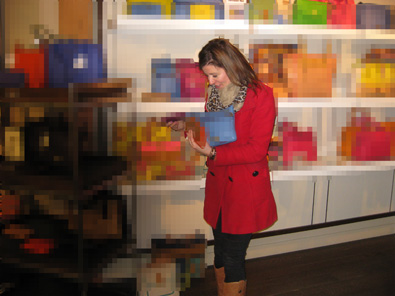 I forget if this (blurred out) wallet I'm holding is from the Spring or Fall 2013 collection. Hoping it's Spring so I can show you sooner than later.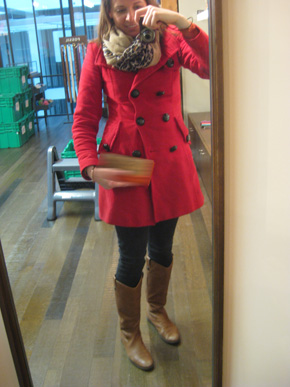 This is the real deal folks. Amazing right? Those green bins off to the right of the photo were filled up with even more Fossil products but they were being packed away since there was a trade show out in Edmonton.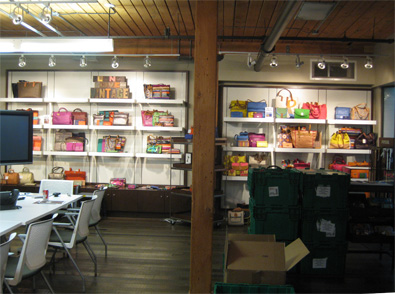 Well. Since I can't show you what's in store for Spring 2013, and Fall 2013 — I thought I'd showcase some of my favorite key items from what is out in store's now, and online. I was speaking with one of the women in the show room and she mentioned that Fossil is going to stop making shoes. Or have, already. Either or, I'm sad because the giraffe shoes I had picked out will never be made agaiiiinnn.

I wanted to buy them but now I noticed that they only have a size 6 left. Arg! 
Okay back to my favorites that are now available for purchase:
No this is not a sponsored post. I love Fossil, remember?