I thought yesterday was June 17, but it's today. Which means it's mine and The Guy's 9 year dating anniversary!
I'm so glad he kept bugging me to date him, look at us now — down here in California almost a decade later, still happy as ever.
My hip flexor (or muscle around that area) seems to hate it when I run "long distances", so I've been taking it easy ever since I noticed pain when lifting my right leg up the stairs. I wasn't sure whether or not yoga aggravated it, or doing more running than usual. I have never in my entire life ran a double digit run before last week, and hello two 10km runs? After my second 10k in two weeks, I've decided to stop running half way through last week to heal it, and do more yoga and bouldering. We'll see how it goes—I better not lose my rhythm when I get back into running, I hate starting over.
I posted this yoga selfie on Thursday. Apparently it's winner winner chicken dinner, not wiener wiener. ;)
Monday June 9: 75 minutes of "noon" yoga, and three hours of top roping (climbing) with Ellen
Tuesday June 10: 6.12 mile run in 1:05:36, I thought I was at the 10km mark but that's 6.21. Gah!
Wednesday June 11:Â  2.5 mile run in 23:47
Thursday June 12: 75 minutes of power yoga, and 1 hour of bouldering

Friday June 13: Off

Saturday June 14: Off

Sunday June 15: 2 hour walk with The Guy & Alfie

I bought this gym bag on a whim after a late night YouTube watching session with the Tone It Up girls (I'm not a member). But I loved Katrina's pink bag better than my reusable grocery bag. I spent way too much money on it, but I bought it anyway. Hope it arrives soon.
I've been eating clean for the last 3 weeks, mainly due to the fact that I was pigging out, and not working out frequently which made my clothes ill fitting. If you've been following me on instagram, you know that I've been making The Guy and I morning smoothies every single day. Skoop must have noticed my #smoothie pictures and contacted me asking me if I'd like to try out their product.
Sure why not. I'm brand new on taking superfoods, or even powdered drinks after a workout. I normally come home and grab a handful of nuts or fruit, after a workout and be set.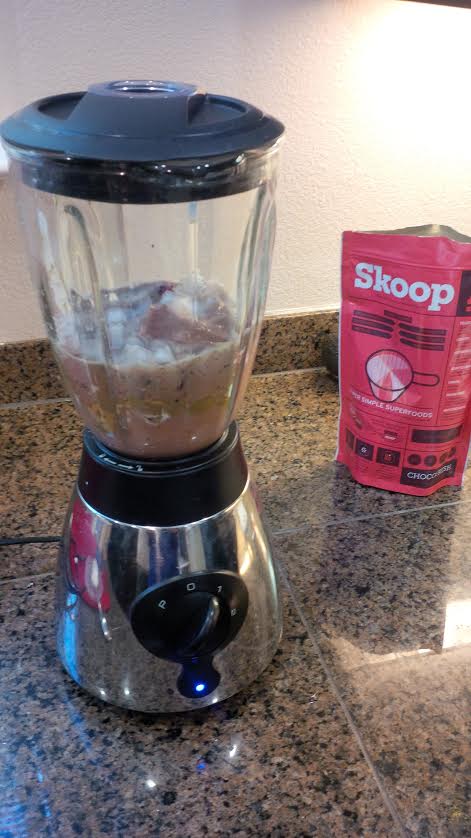 Gotta say, I didn't have high expectations for this as I've never been one to put added powdered stuff to my drinks after a workout. Mainly because I'm lazy and the fact they all leave a funky after-taste. I was definitely skeptical of running my morning smoothie with Skoop. I tried out the Chocofresh and definitely was surprised. Typically I use Trader Joe's pure unsweetened cocoa in the smoothie, which leaves a bitter after-taste. But this one left a fruity chocolate taste to the smoothie. I made one for the both of us, and have been adding a scoop of skoop (ha!) to the smoothies every morning. Unfortunately though, the bag costs $65! As much as it says the product is good for you, I definitely cannot afford that. Too bad, as it's absolutely delicious.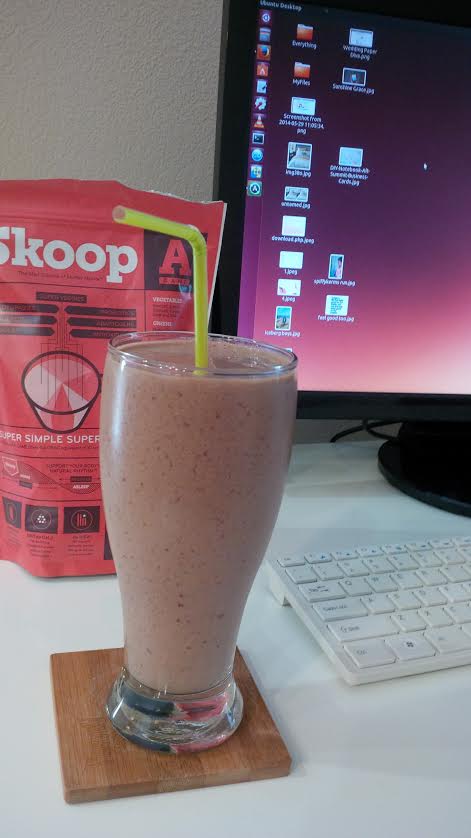 I should start drinking this moreso after my yoga and bouldering sessions rather than first thing in the morning. But it's honestly so good, I can't wait til the afternoon to have one.
Here's a bit more information that was shared with me in the initial e-mail:
Skoop is an organic non-GMO superfoods powdered formula, rich in antioxidants, adaptogens and probiotics. It's non-allergen (no dairy, soy, gluten) and great for fighting inflammation, stress and bad gut bacteria. It's a wonderful post workout drink because it's so alkalizing in the body and helps promote a quick recovery.

There are no mysterious fillers or "potion" like concoctions hidden within. It's clean, organic and all non-GMO. Plus 10% of every bag is donated to a national non-profit that provides fresh produce to children in schools. It's basically buy one, give one. It's a great mission and we're looking to really do some good here!