I have nothing planned in my head as to what I'm going to blog about this week. I think it's because I'm way too excited to head home to Newfoundland for Christmas. I'm going a few days earlier than I would normally so that's VERY exciting. Especially since I'll be there for my littlest nephews birthday.
Speaking of not having anything lined up, would anyone like to do guest blog posts on my blog during the holidays? All you've gotta do is email me with a blog post by Thursday night.
This weekend we ran around and did some errands, in the snow storm. Glad I wasn't driving — a few points during our drive we fish tailed while making turns. That freaks me the eff out, and that's when I used to go in ditches when I first got my license. One day I'll tell you how many times that was. Today is not that day.
I've been listening to ChymFM radio station at work, in the car and at home on the internet radio player … because they play Christmas music 24/7!!!!!!!!!!!! Have a listen. They play a lot of the classics.
Alright, time to talk about my workouts last week. Only went twice. Better than not going at all I suppose. Let's make it Christmasy looking. That'd be fun…
But just to have this post a little visually more interesting. Here's what I wore on one of the days to to the CrossFit wod. Winter attire at its best (and a photo of me at work).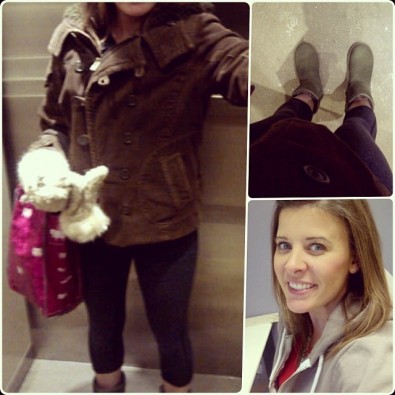 [older crossfit journal entries]
______________________________________________
year 2, week 41, day 2
Skill: Butterfly Kip
~10 minute practice
WOD: 5 rounds
17 minute time limit
8 HSPU (hand stand push up)
50 Double Unders (or 100 singles)
*EMOM 6 wall balls (20/16)
This wod was more difficult than I had imagined it was going to be. It takes me forever to do wall balls because I need to catch my breath on the skipping, then it's wall ball time. Waste a few too many seconds catching your breath you slow down and then the next minute comes up and you have to re-do the wall balls. Ever minute on the minute you do them. So basically I was doing wall balls for 17 minutes and I was swearing at myself inside my brain. You don't understand how much I hate wall balls lol. I ended up doing just 3 rounds + 8 pushups on the 24″box in the 17 minutes.
______________________________________________
year 2, week 41, day 2
Every 30 seconds for 12 rounds
1 hang power clean*
1 power clean*
1 clean*
* All at 60%
I did 65lbs for this workout but I think I should've went up to 70lbs. Cleans are one of my favourite movements at CrossFit.
*Rest 3 minutes*
1 clean & jerk (10 minutes to find out perfect buy heavy rep). I managed to get up to 90lbs for the clean and jerk (I did power clean to push press). But the push press held me back on going up on more weight. I remember did 100lbs x 3 on Power Cleans on May 22 (I wrote it down in my journal). So it'd doable!
AMRAP 15
10 sit ups
10kb swings
10kb russian twists
10kb sumo high pull
Prescribed workout was 16kg for females, but I did 12kg. I ended up doing 7 full rounds and 7 russian twists in.