It's Friday the 13th you know. I'm not really superstitious, because if I was I'd be a much more anxious/worried person than I already am. But first, my outfits of the work week.

Bam.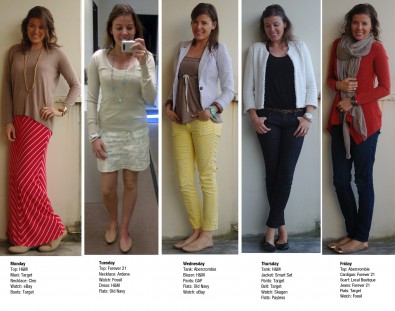 Crossing a black cats path? How about I just avoid cats altogether because cats in general freak me the F out.  Even talking about them makes me sweat. Yet somehow I always get talked into looking after friends/family members houses (which are usually filled with more than one cat and no dogs). Why can't dog people ask me to house sit?
Find a penny and pick it up, all the day you'll have good luck. Did you ever really have good luck picking up that penny? I always sang that little tune but I never did have anything spectacular stand out to me on those particular days. Now those days are getting far and few between since… well, Canadians don't manufacture pennies any more.
Walking under ladders. Who would truly walk under a ladder anyway? I walk under scaffolding a lot when there's construction going on, but not ladders. Those are small, and flimsy and may collapse!
A Rabbits Foot Will Bring You Luck. Don't call PETA on me, but I remember my brother having a key chain with a dead rabbits foot on it at one point during our childhood. I never wanted one since I thought it was disgusting, but conveniently enough I was the luckier kid out of the two of us. I would always find money on the ground (I actually found a 50 euro note in Ireland while I was with my Brother!), or have better luck with ordinary day stuff.
Although, I do like to make a wish on a chicken wish bone,  don't like to open umbrellas inside, and I knock on wood quite a bit. Always have and if there isn't any wood around I knock on my head.
I'm pretty excited for this weekend. I'm driving to Toronto for a Make Up For Ever event at the Eaton Centre tomorrow. Then shortly after that I'm going to finally meet Leanne from Fresh Season, Erica from Waste My Time and a few other girls that I've hung out with before. We'll be dining in one of my favorite parts of Toronto,  Yorkville for some food and just enjoying our time together.
Are you superstitious?
What are your plans this weekend?
Have you ever met someone from the internet?