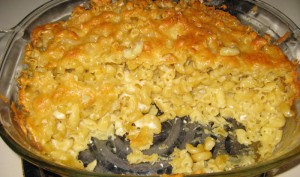 INGREDIENTS
¾ package of elbow pasta
¾ – 1 bar of cheese
milk
DIRECTIONS
Preheat oven to 350ºF


Boil water and drop in 3

½ cups or

¾ bag of pasta

Cook until

½ —

¾ cooked, pasta should still be firm as it cooks in the oven

Strain pasta and put in a deep oven safe dish. Coat the dish with pasta until you no longer see the bottom. Add your milk until you see about an inch of milk from the side of the dish.


Add a layer of shredded cheese

Add more elbow pasta and top with more shredded cheese

Place in oven and bake at 350ºF for 1 hour

Once it's cooked and out of the oven. You must believe me and try this. Do not top your mac'n'cheese with ketchup. Go out and buy this tomato juice and drizzle over pasta. It's amazing and I can't eat my home made macaroni and cheese without it!

Prep time: 20 minutes | Serves 6 | Cook time: 60 minutes | READY IN 80 MINUTES!