I want to thank the Chicken Farmers again for sending me to the She's Connected conference (SCCTO). Had a great time!
Yesterday morning I set my alarm for 5am to get my butt in gear and make the drive to Toronto. How many times have I said on my blog, it's never a road trip unless I get lost? The GPS told me to get off onto Dixie (that road will be the death of me, I have so many stories about that road and me driving on it doing u-turns) do a u-turn and come back onto the same highway I got off of. Thankfully I allotted myself a ton of time to navigate the city. After that, everything ran smoothly.
Morgan and I had planned on meet up with one another at SCCTO, and so glad I did. I hadn't seen her in months and I was overdue for a giggle-fest day with her.
At the first keynote, a few of the SCCTO first-timers (including me) were told to stand up and introduce ourselves. I'm glad I did because as soon as I did, Isabel tweeted me saying she was sitting at the table behind me. I finally met her!
 One of the main sponsors for SCCTO was McDonalds. I had huge plans to spend a lot of my day in their lounge, and so I did.
McDonalds Canada hired people to do massages and manicures in the relaxing jazz-music-playing lounge. Courtney and I got manicures, while Morgan got a massage.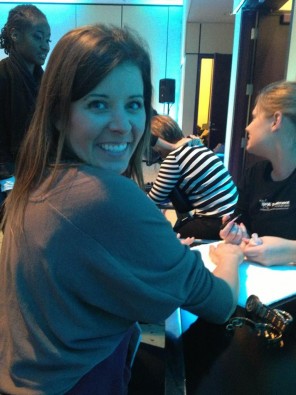 I requested a few hot chocolates throughout the day, and my final one I asked if I could have a pump of their caramel sauce (for coffee's or lattes) in my hot chocolate. I think it's something they should totally market, because holy heavens it was delicious.

Here's my loot from SCCTO:
Maple Leaf Connects was also there. My Dad would be proud of the shirt I scored. Dad makes the best bacon I have ever, and will ever have. I only eat it when I'm home in Newfoundland because of it. Good bacon cooker ;)
The seminars I attended were so great. I have pages of notes to flick through. Morgan ended up speaking on the one of the panels about Brand ambassadorships and community management from the PR perspective.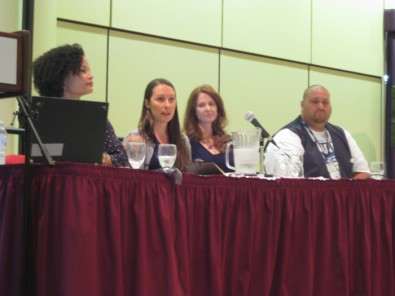 L-R: @AliciaHCox, Morgan, @CateWritesAgain (Canadians, remember Hal Johnson and Joanne McCloud? Catherine's with participaction!), and @BigDaddyKreativ!
After SCCTO was over, our stomachs were rumbling. For lunch we all went to Chipotle to grab something to eat. I've heard so many people rave about that place, on blogs. But have never been there. It's basically a mexican-style subway. I wish everything didn't have onions in it though. Everything was smothered in it, and there was no way around it. Disappointing lol.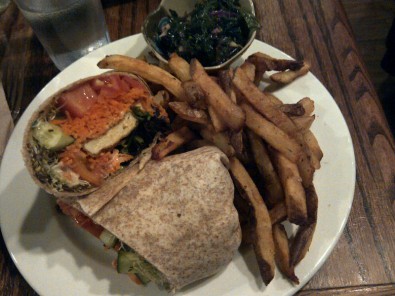 Morgan took me to the Queen/Spadina location of Fresh. It's a vegan/vegetarian restaurant and it was my first time being there! I ordered this tasty dish and polished it right off.
I was then accompanied to my car with Morgan, because I didn't want to get mugged. She's my Batman in the bad city of Gotham haha. I dropped her off on some random side street (just kidding) and went on my way back home.
Spadina, the road I needed to make a left on, was shut down due to construction. My plan was ruined to get home (lol). I called the Boyf and he navigated me throughout Toronto for a full 30 minutes until I was finally on Lake Shore Blvd and heading towards home. Moses, what a rats nest I was in.
For the last 25km of the ride home I was feeling a bit unfocused. It was then 10pm, so I blasted the cool air in the car along with radio music. But it didn't work, I felt like I was getting tired. I ended up talking to myself out loud in the car, about writing this blog post, about She's Connnected, basically pretending someone was in the car with me but I was doing all the talking. I told my boyfriend this when I arrived home and he jokingly asked me "Have you gone mental?" hahahah!!!
It's what I had to do. I had a great time hanging out with Morgan, thanks for taking me to some new restaurants! Can't wait to see everyone again.