My co-workers, friends and even people I know online always ask me how I stay motivated. For me, it's easy. I love being active. But I know everyone doesn't.
Have you ever tried indoor rock climbing? It's super fun, and a huge work out in itself. Don't know what indoor rock climbing is like? Check out the video of me, doing a boulder problem back home in Newfoundland. Please note the video is quite old — it was in 2003 (!!!) so my digital camera wasn't the best at shooting film back in the day.

It may take a while, but I say you need to find something you absolutely enjoy doing, and keep at it. If you hate running — don't do it. Simple as that. Get creative, and find an activity that gets your body moving. Just watching those climbing videos just makes my finger tips sweaty, and want to chalk up and get back on the wall.

And another, for good measure ;)
Set small goals. Tell yourself you'll work out "X" many times this week/this month. Once you achieve that goal, give yourself a treat — a movie date with your bestie or significant other, a new work out top, or maybe just a new mascara you've been eyeing. Be your own #MyBetter.
Speaking of mascara. Have you ever tried Make Up For Ever's Smoky Lash? Look at those lashes it gives me. No, I'm not wearing falsies.
You'll shortly find out that working out makes you feel good and will definitely boost your own self esteem and confidence. I think it's easy to keep up something you're truly passionate about, and have fun doing it, of course it's hard work but that's the fun part – creating these new goals to strive for. Or as Nike says…

Working out can improve the quality and even length of your life, just by taking care of your body. It doesn't have to cost anything, just put the effort and time into it. Everyone goes through tough times, so being there to support and encourage your friends is essential.
As I post on my blog, you know I like to share my own stories, both failures as well as successes. I want you guys to be able to relate to me, to know that you're not the only one with challenges. I started running again 3 weeks ago, but this time I have a Coach (Hi Steve!). I've never been so excited (and still somewhat anxious, but I'm trying to overcome that) to go our for a run once a week. I won't lie, it's still very difficult for me, especially with my breathing. but I'm learning to overcome the breathing issues — it's mostly anxiousness and punch out some longer (such a relative term… 6km is long for me) distances.
I'm leaving everything open in the comments today. I want you to ask me any kind of questions, fitness related or not. Let it be an FAQ sort of thing, for anything you've ever wanted to ask me. Use the hash tag #FAQspiffykerms on twitter for your questions, please!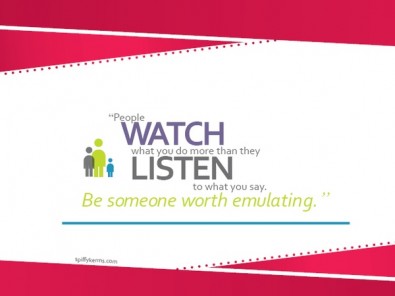 A great quote I found, then prettied up. I pinn'ed this a few months ago (and I guess no one found it interesting enough to re-pin, lol).
Go ahead and leave me a comment. Ask away. FAQ's will finally be answered!