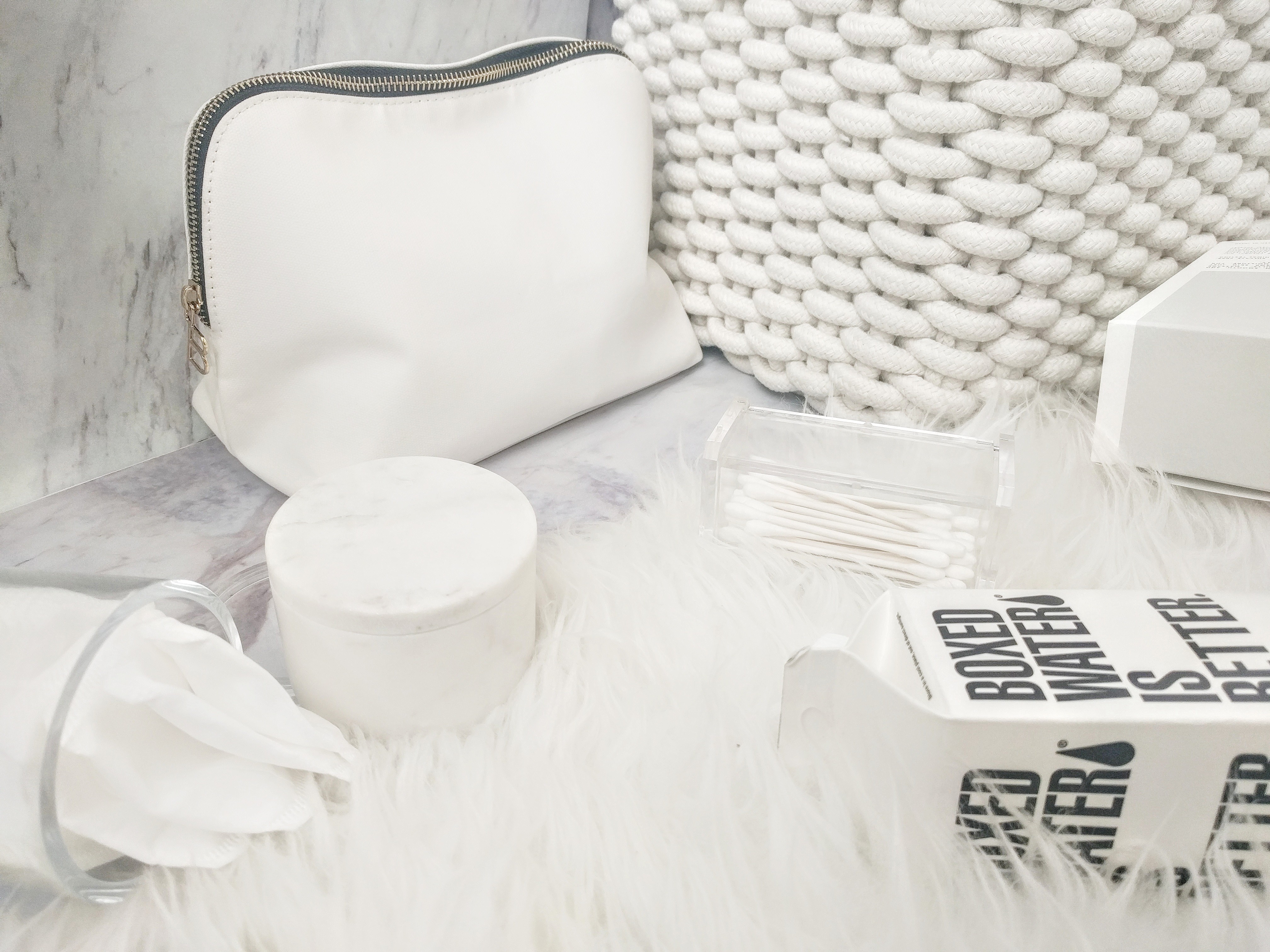 With the stresses of everyday work life, and 2016 in general, I wanted to do something extra special for my husband this year for his birthday. I surprised him with an Ayurvedic Treatment for the two of us so we could both unwind with a luxurious experience at the Burke Williams spa in Santana Row in San Jose.
My husband is an incredibly active man as he not only commutes to work on his bicycle every.single.day (because Bay Area traffic is horrendous) he's also an Ironman triathlete who seems to be always in training. He rarely sits down to relax, so a trip to the spa without any distractions whatsoever was the ultimate birthday gift to help him decompress. With the Ayurvedic body treatments we chose, they are supposed to calm the mind, balance the three doshas and create a profound sense of bliss and contentment. Let's see. Did it work?
For the past three years of living here in the Bay Area, I've walked past Burke Williams spa in Santana Row countless times. This was my first time visiting the day spa and I have to mention, it's quite understated as to how large the place truly is. Actually, I laugh now but I did get lost in the women's spa area trying to find the exit to the waiting room to be called for my treatment. The San Jose spa location has over 12,000 square feet!
It was suggested to us we arrive a bit earlier than our appointment time to take full advantage of all the services Burke Williams offers, and we did just that. My husband and I parted ways for the next hour and a half (as the men's and women's area are separate minus the communal waiting area). I changed into just a warm luxurious robe, put away my street clothes into a locker, slipped on some fresh slippers and poured myself some spa water, and carefully entered the Women's quiet room before being called.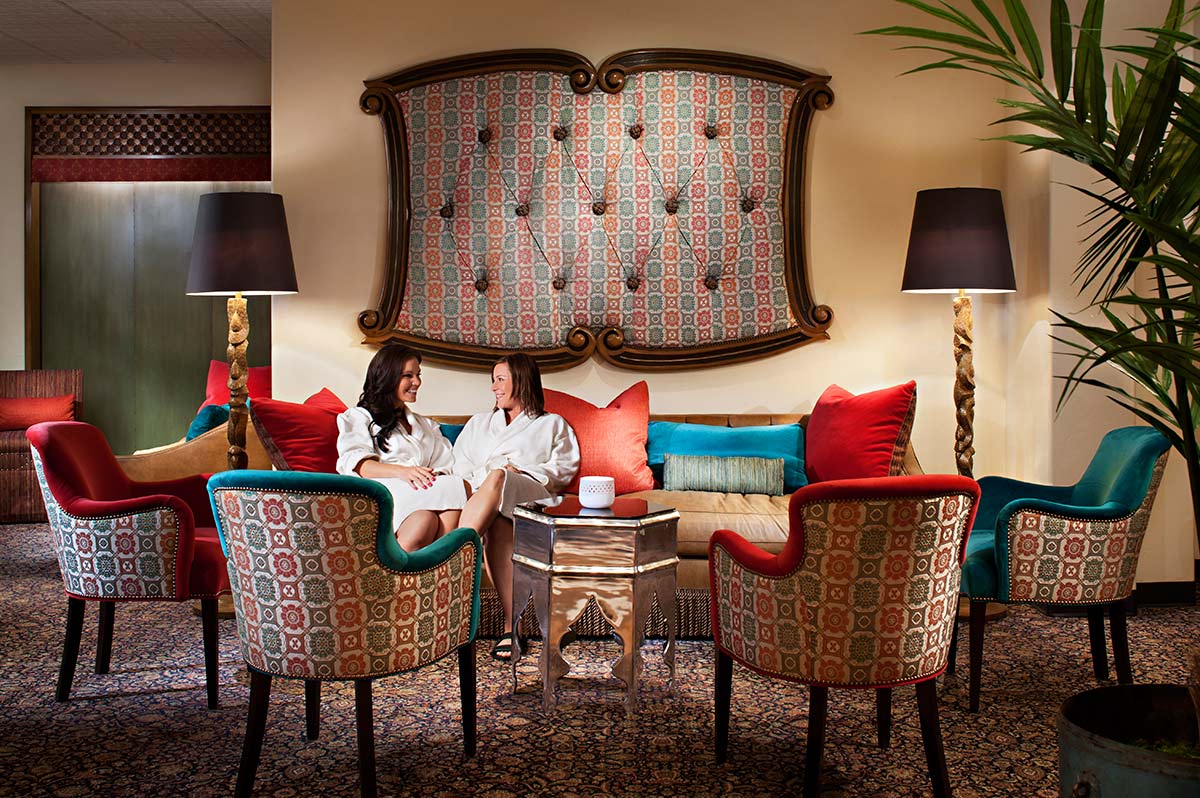 The communal waiting area was warmly lit with plush velvety pillows and was decorated in what I feel like, a Moroccan style. The vibe was purely serene when walking in. I could have just stayed in the waiting areas the entire time since the amenities felt like they were endless. However, we were both scheduled for an 80 minute Shirodhara treatment (one of the three Ayurvedic Treatments available).
SHIRODHARA| Head-flow. Profound — Flowing — Clarity
This deeply soothing traditional Ayurvedic treatment calms the central nervous system and integrates the mind and body to achieve a heightened state of awareness, relaxation and contentment. The treatment begins with selecting the herbal massage oil specific to the mind-body constitution, or dosha. Guests will be expertly massaged with the warm herbal oil ending with the Shirodhara, a constant and gentle stream of oil poured over the third eye to create a profound state of happiness and mental clarity. Description of the Shirodhara treatment pulled from Burke Williams site.
Not too long later, I was called by my massage therapist and quietly walked down to a quiet and dimly lit room — a little oasis for me, for the next 80 minutes.
The treatment began with me selecting which oil I preferred to be used, one was a calming, the other soothing, and lastly there was an energizing oil. Since it was later in the evening, I chose the soothing one for my therapist to use on me during my treatment. You guys, I kind of already want to book another Shirodhara treatment. My skin and hair is so moisturized, because they definitely use a plethora of oil on you during your full body massage. It's an amazing feeling to be covered in oil from the top of your head, right down to your toes and massaged (almost) every inch of your body. It was amazing, and not once did I feel chilly (I'm always cold!) despite the lack of towels on me (you have minimal coverage with this treatment, with just a towel covering you).
Towards the tail end of the treatment the dosha oils were applied to my hair and I received an incredible scalp and neck massage. To finalize the treatment, a constant and gentle stream of oil was poured over the third eye in a pendulum motion, to create a profound state of happiness and mental clarity. While I'm not sure it sent me into a state of happiness and cleared my mental state, it was definitely amazing and soothing. My husband was the opposite, as he mentioned that it was his least favourite part of the treatment since he wasn't entirely into it. Then again, you have to remember all these treatments are bound to affect everyone differently.
After my treatment was done, my massage therapist draped a heated robe on top of the blankets I was underneath and left the room for me to change. Once I walked out of the room, I was greeted by my massage therapist again, with a glass of water and a yummy piece of chocolate, then given written instructions on how to properly rinse the oil from my hair.
Apparently upon finishing an Ayurvedic Treatment, it isn't unlike the feeling you have when finishing a meditative session or yoga class. More specifically this is why I prefer yin yoga classes at my local climbing gym. I love the relaxation and centred vibe I get from it. I guess it helps to have an awesome instructor who is completely into it too. As weird as it sounds, since I don't usually blog about my yoga or climbing sessions, I did have a I had a familiar feeling from the Burke Williams Shirodhara treatment.
The experience my husband and I had was incredible. Once the treatment was done I took advantage of the shower and steam rooms available. Their showers? Seriously, next level you guys. Private stalls with a huge shower room to yourself with three separate sprays coming at you in the shower. It was glorious, and if we ever buy/build a house I want my shower to have three shower-heads too.
Burke Williams Women's spa area facilities were completely equipped with anything and everything I could have wanted. I went a little ham and used most of the hair products I spotted, whether or not I needed them (I wanted to see what they were all like! Lol). I used a leave-in conditioner, a volumizing gel, I blow dried my hair using a few brushes (they have clean brushes available then once you're done, pop them into the dirty bin) then followed up with a spritz of dry shampoo. Then before getting dressed I used their body lotions, face washes, facial toners and a moisturizer. Guys, I don't think I've ever been so fresh, and ready to head home and get into bed!
What a relaxing experience that left the both of us feeling serene, and in a happy state of mind. I suggest anyone who is feeling stressed or has a demanding workload, to try the Shirodhara treatment. Don't neglect your well-being, relax a little!
Thank you again to Burke Williams spa for allowing us to try their new Ayurvedic Treatments. Visit Burke Williams website for more information on their services and products.
Disclaimer: My husband and I both received a complimentary Shirodhara treatment from Burke Williams. 
Burke Williams San Jose
355 Santana Row, Suite 2010
San Jose, CA 95128
TÂ 408.241.0071
Twitter | Instagram | Facebook