Burberry Kisses Glosses are an exceptional product and filled with luxury. Rightfully so as the 6ml buildable glosses are made in Italy! With a flexible doe-foot applicator and a dab or two into the product your lips are glossy without being sticky, streaky nor feathering. The applicator has just enough to cover my bottom lip, sometimes I'll pinch my lips together to add a bit of shine, but I'll have to go back into the gorgeous glass tube to apply more to my top lip.
The attractive packaging is an eye catcher, as the hefty lip gloss is made of glass with the gunmetal top with Burberry's classic etching. The Kisses Gloss comes in 28 colours from their classic military red shade, to perfect nudes like one of my favourites: nude beige.
The four shades of Burberry Kisses Gloss are all pigmented enough to wear on its own, or of course to be topped over another lipstick. I tend to keep my makeup quite simple with little layering as possible, so I love to wear these on their own, and it creates a subtle colour to finish off my makeup application.
The formula is excellent, as it feels hydrating and lightweight on the lips with a buildable colour payoff depending on how opaque you want the shade to be. And the texture is also fantastic since it's not thick, or runny — instead it glides onto my lips smoothly keeping them hydrated. However I don't find the formula incredibly long-wearing.
So you can see a true definition of what my lips look like with zero lip product on them (above).
Burberry Kisses Gloss | Nude Beige No. 17
My favourite colour out of the four, a perfect everyday shade. It is fantastic blend between beige/pink without washing out my fair complexion.
Burberry Kisses Gloss | City Pink No. 49
I would describe City Pink as quite a playful pink with cool blue undertones.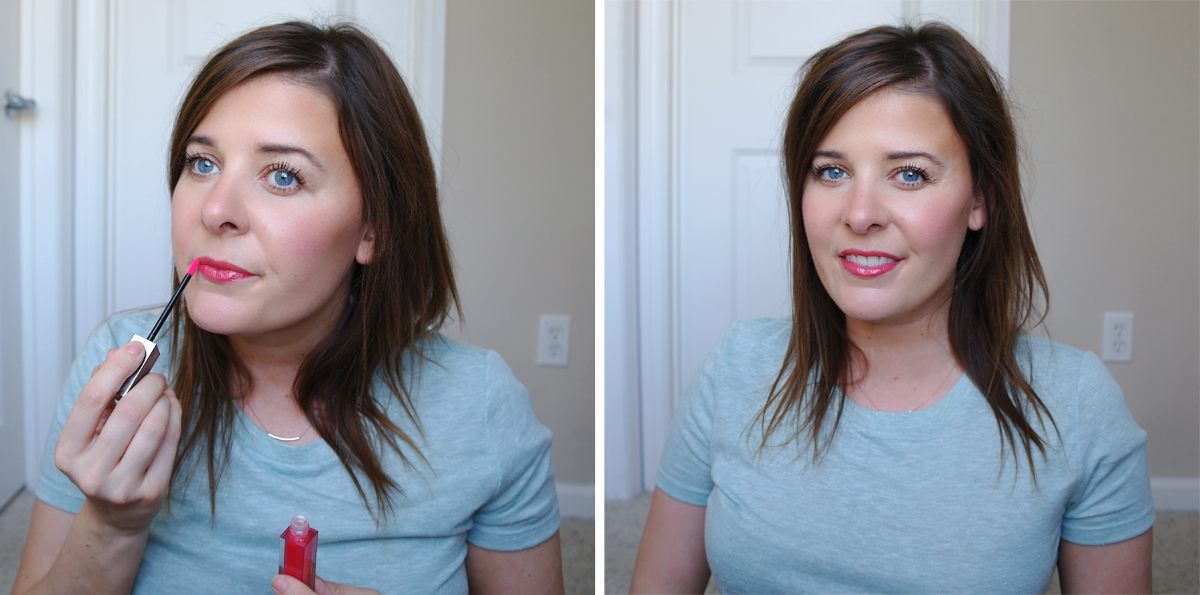 Burberry Kisses Gloss | Tangerine No. 77
A gorgeous reddish orange colour that adds a bit of fun to your makeup look.
Burberry Kisses Gloss | Vermillion No. 81
This shade has a bit of sparkle to add a bit more shine and shimmer to the lips, but not gritty where you can feel it. The colour is a wearable and buildable shade of peachy pink.
A closer look, with the four Burberry Kisses Gloss swatched on the back of my arm. Top to bottom: Nude Beige, City Pink, Tangerine, Vermillion.
I absolutely recommend you pick up one or two of these Kisses Glosses from their 28 colour range, especially come winter time — I cannot get over the hydration these give my lips, it's incredible.
Thank you to Burberry for partnering with me and sending me these beauties!