Picture this. You're out on a date with your husband (ahem, okay or you're not married, and you're out on a date with a hunka-hunk). You spent an hour (let's be real, you spent over two) to get ready. Mr. Hunka-Hunk Date picks you up and the first thing he says to you as you step out of his car at the disclosed location (this time, being an NHL Sharks Game, they lost by the way, luckily it's pre-season) the first thing out of dude's mouth is… "Uh, you have makeup or something on your teeth".
If you didn't get the hint already, it was my husband and I out for a little date night the previous weekend and he said I had "makeup" on my teeth. Meaning, lipstick. Ugh.
THIS IS WHY I DO NOT DOÂ BRIGHT COLOURS.
(p.s. I will forever adopt my Canadian spelling for everything, thanks).
The Balm steps in and creates a long lasting liquid lipstick? Completely saves the day. Luckily my husband and I have been together 10+ years, so I'm not as easily embarrassed if I have something in my teeth. But-I-mean-c'mon…. it could be all avoided if I had just worn the long lasting liquid lipstick, appropriately named: Meet Matt(e) Hughes. I mean, the play on words is just too much. I freaking love it.
Swatches on my arm — so pigmented, right? I hate the smell of vanilla, and while these have a slight vanilla scent it's also a bit minty too. 
Mind you, I did film a vlog, and the matte liquid lipsticks transferred onto my starbucks hot drink lid, and it also wore off when I ate my sandwich. So I suppose it's long lasting… if you don't eat. I mean, it's also no big deal to re-apply either. Considering the product is easy to put on, and doesn't bleed out. Which is a huge plus for a newbie bright lipstick beginner like me who doesn't want to fuss with all the lipliner and trying to trace the lines 'just-so'.
Anyhoodles! I thought I'd stop rambling, and show you what the 8 shades look like on my lil' ol lips, so here we go…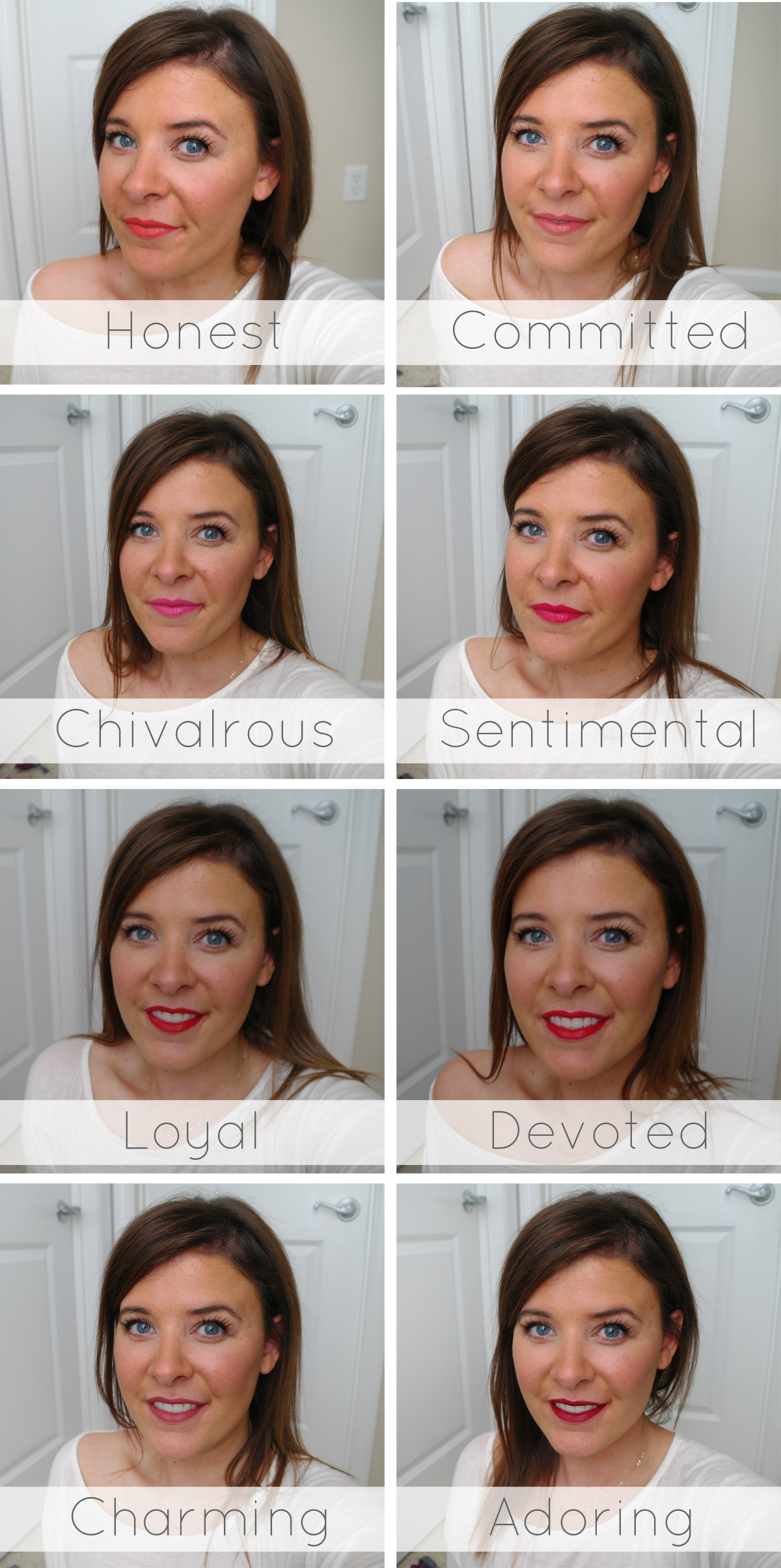 One more thing. I have to tell you my two favourite shades are, that completely shocked me (was thinking of the pinks or darker colours that would be up my alley… no siree). The two colours I ended up LOVING and wearing constantly? Honest & Committed.
I mean. That pretty much sums up my relationship with my husband right there, those two colours, har har har! I love it.
I think you will too.
Also. Not drying on the lips. I hate that.
P.s. Remember that post I wrote about when I visited The Balm's flagship store in San Francisco? The Balm saw that post, and sent me some goodies — I was pretty stoked. I ended up filming an unboxing video while I was at it too. Thank you theBalm!
P.P.S: (So proffesional I know). There will be a fun YouTube video out of me live-swatching with funny faces coming in October, so stay tuned to my channel for that. The above image is what you'll be looking out for on YT!