I love to save money. It's a game with me. I hate spending more than a penny (or nickle in our case seeing how we phased out the penny this year — that joke won't ever get old with me!) than I have to. I often get teased regarding my coupons or how I'm so frugal. For instance, I won't pay over $3.99 for toilet paper. I wait until I see a sale, bring my abundance of coupons and stock up. So much so, the cart is so overflowing with toilet paper, enough where I get questionable stares from shoppers. Is she stocking up for a hospital? Does she have digestion issues?
If I can save and have the cheaper product work out similar or better, then I scored big time.
Although I have long lashes that don't require mascara, I get it. I get that you want your lashes to stand out, hold a curl and look lengthening and voluminous. I get it gorrrrl. Sorry. That was weird. But honestly, everyone has their all-time favorite mascara. Not everyone is going to go out and buy what someone recommends on a blog. But this is different you guys. It's not a mascara, it's a top coat. You don't have to switch out your holy grail mascara for a completely new one. I know not everyone wants to wear a waterproof mascara every day. But if you plan on laughing so hard that you cry (me, every day), or plan on jumping into a pool at a pool party (me, this weekend) you can waterproof that fav mascara of yours with a clear waterproof topcoat. Then the next day, revert back to your regular mascara sans waterproof topcoat! Brilliant.
And friends, I found a drugstore dupe. Not everyone has a Sephora location they can pop into and spend $28 on the Anastasia Lash Genius (which I reviewed last year).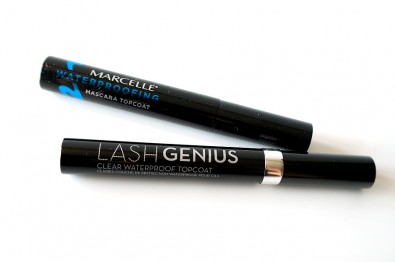 Bring it on Marcelle!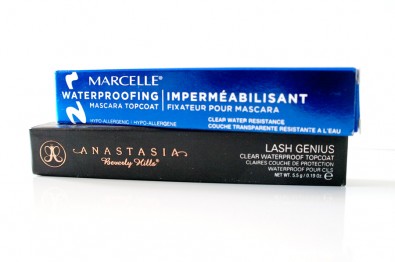 About Marcelle Waterproofing Mascara Topcoat
Retail price: $16.95
0.24oz / 9.5ml
Waterproof features:
Transparent water-resistance for mascara
Goes on easily over regular mascara (Yup)
Long lasting (No raccoon eyes!)
Leaves lashes feeling light and supple (Raises hand. I can vouch for that)
Tested under ophthalmological control (mouthful)
Paraben free
Hypo-allergenic and perfume free
I've been wearing the Marcelle sweat proof, tear proof, waterproof mascara for the last few weeks. I don't remove my makeup when I go to CrossFit after work. Due to the fact I have little time in between getting home and changed and then driving to the box to get a workout in. So far it hasn't caused any rebellious raccoon eyes. Nor has it been stubborn to remove at the end of the evening. I have so many favorite mascaras and I don't want to buy the waterproof version of them because they'll all just dry out before I have a chance to re-use them again. I mean, I could potentially wear them every day, since I do laugh a lot and I'm a crier when I laugh. So I could benefit from using a waterproof one every day. But I don't.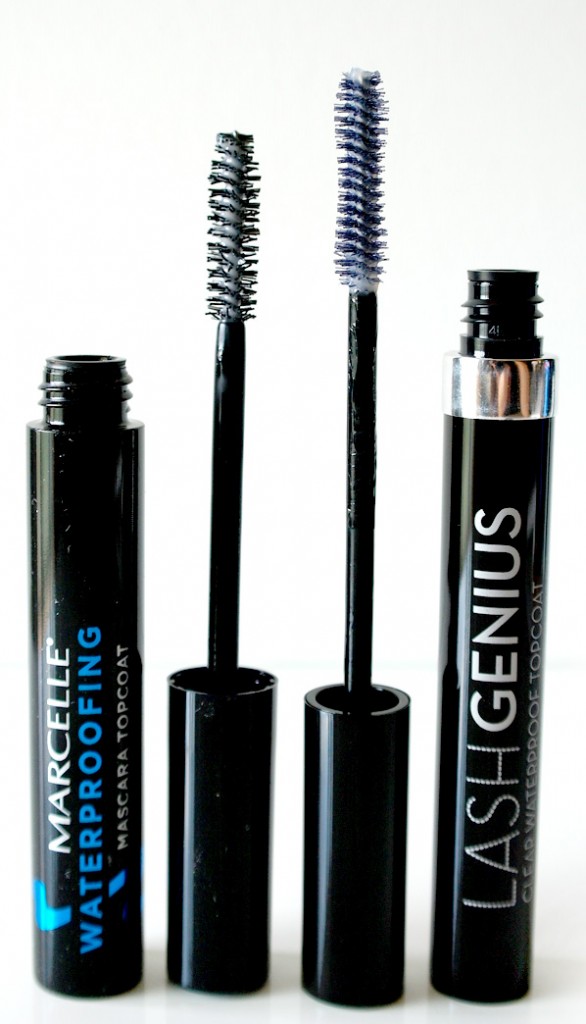 I realize I've talked about Marcelle products in the past in a YouTube video of mine, especially the mascara that acts like a "push-up bra". It has a twistable wand where you can make the bristles give your lashes volume, or lengthening. I've been using it in replacement of my Make Up For Ever Smoky Lash (hey, sometimes you gotta switch things up a bit. Know what I'm sayin'?).
An American twitter follower of mine asked me where she could buy Marcelle products and unfortunately it's not sold in USA stores, however you can buy it online at Marcelle.com and they ship to the USA! Hooray for sharing neighbours. Buy any Marcelle mascara and receive one Marcelle Waterproofing Mascara Topcoat for Free. Offer applies between August 19 and September 30, 2013. Online only. Promotional code upon check out: BOGO.
How does the Marcelle waterproofing mascara top coat compare to the Anastasia lash genius?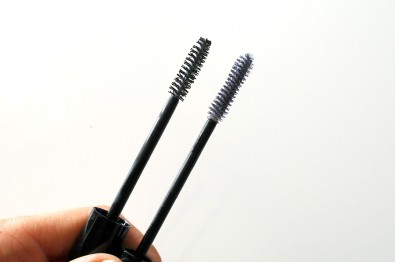 (Left-Right Marcelle, Anastasia)
It's pretty on par. If I were going to suggest you get one of the two products, they're virtually the same. Save your $12 and get the Marcelle.
Random tidbit: Marcelle is one of the first cosmetic lines I started using. Especially after I found out that I should only be using hypo-allergenic products (mainly in the winter due to my eczema).
Disclaimer: Marcelle Waterproofing Mascara Topcoat was sent to me for review. I have not been compensated for this review. All opinions are 100% my own, as always!