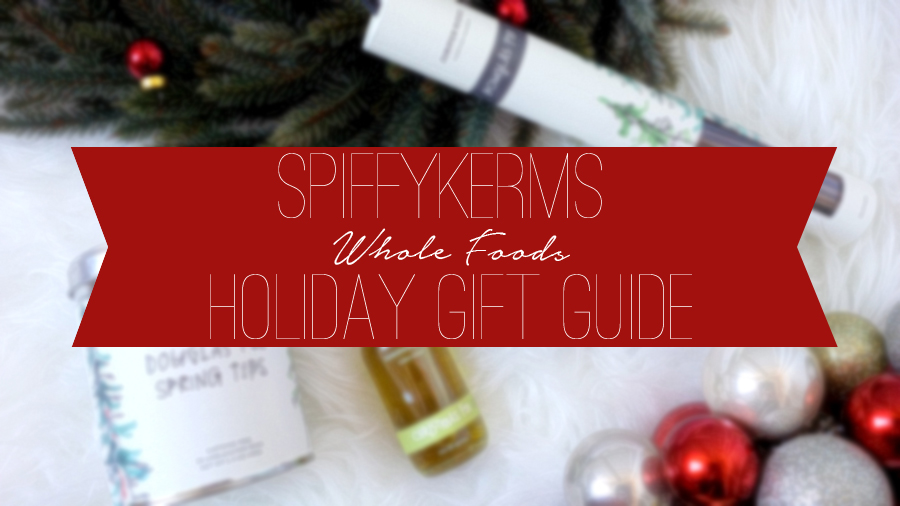 Guys I can't believe we're approaching Christmas soon. I feel like I'm not ready for it it this year. Should I even be talking about it this early on? I always say, I don't celebrate the Christmas season until after the November 11 Veteran's Day. But it's long past that now!
The day before I flew back to Newfoundland, I received a few parcels in the mail (perfect timing, whewf!). One of them being from Whole Foods.  Since I already had a couple of weeks to try a few of the products out, I can now offiically tell you how well they worked for me and of course put together a holiday guide for you to shop for yourself, or for others. :) I have so many exciting blog posts and Gift Guides coming up in the next little while. Today, being the first one. Whole Foods Market Northern California has created an exclusive Winter Beauty kit to help us folks look and feel our best this season. Let's jump right in:
It's totally fine to talk about your favourite product of the bunch first, right? I mean, couldn't you tell by all the tweets and Instagram photos I snapped throughout last week?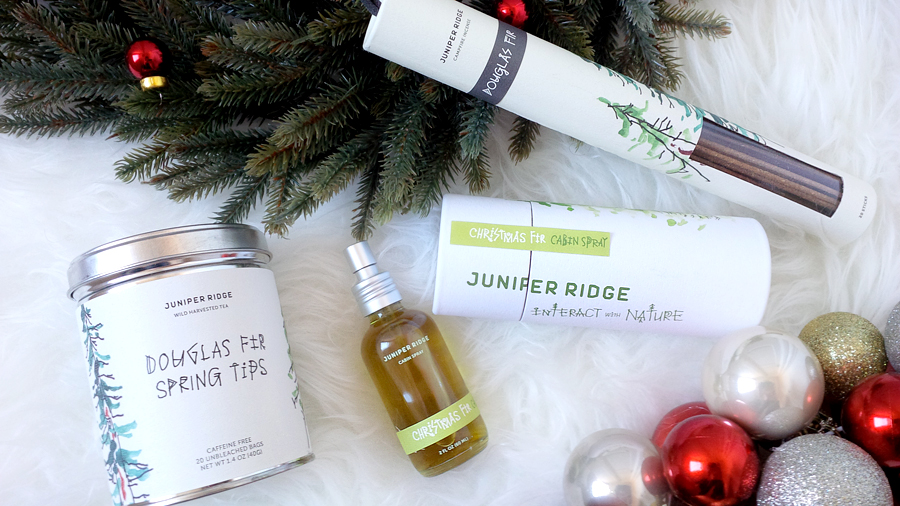 Juniper Ridge was definitely the front runner in my favourite-must-tell-you about products. The Douglas Fir Spring Tips ($13 for 20 tea bags), Christmas Fir Cabin Spray ($25 for 2oz), and Douglas Fir Campfire Incense ($12 for 20 sticks. Note: No hidden ingredients. No charcoal or perfume. Ingredients: Wildcrafted plants, tree sap, wood, and bamboo stick.), are no surprise: incredible smelling products to warm the nose, and the smell of your home this Christmas season. As I mentioned on my social media many times, about Juniper Ridge, I feel as though the scent of Douglas Fir and Christmas Fir scents are the epitome of Christmas. Neither of the three products have an artificial scent about them at all. Plus, the tea… although strange to me (I'm used to the simplistic black tea) is earthy tasting, but so yummy. I can't wait to walk into Whole Foods and smell their backpacker men's cologne though, swoon! 
Gift tip: Such a unisex scent, perfect gift for males and females.
Find them:Â Â Web //Â Twitter // Instagram
---
Colour names, left to right: Gilded Rose, Sprinkle, Snowflake, Cashmere, Whisper, Golden Sand. 
Mineral Fusion is a natural, vegan cosmetic brand that doesn't test on animals. I haven't tried any of their makeup/skincare before but I'm interested to try more of their products out. Mineral Fusion is a sustainable brand, and their packaging is made from recycled materials.
The six colour set (named constellation) is exclusive to Whole Foods Market.
Here I am wearing three of the six colours from the mini set:Â The effortless and easy to wear Cashmere colour (a soft dusty pink) is applied all over my nails. On the accent nail, I applied Gilded Rose and added Sprinkle as a top coat to add a fun glitzy effect.
Gift tip 1: Gift the entire set of 6 mini nail polishes (this set in particular is exclusive to Whole Foods) to a friend, or separate all 6 of them and do a few gift bags for your girlfriends this Christmas, including one of the nail polishes in with.
Gift tip 2: Instead of saving the nail polishes as a gift for someone for Christmas, perhaps you're inviting a few couples in for American Thanksgiving – next to your place setting cards, add a mini nail polish for your guests and ladies of the evening. It's a different, but special added touch that I'm sure they will all appreciate.
Find them:Â Web // Twitter // Instagram
---
Trilogy Rosehip Oil ($36 for 30ml) Straight to the hydration point. I'm all about skincare products over makeup. I feel like the more you take care of your skin, the less makeup you'll have to wear (but I mean, c'mon – it's definitely fun to dress up/play with makeup on a regular basis. I won't stop wearing it for a while at least!). But keeping your skin healthy, and hydrated is key. Especially with those colder months coming up. People don't believe me when I tell them that California gets cold. Seriously, when I got back to California from visiting Newfoundland, I was expecting 20°C+. Pretty sure I brought back the cold Canadian climate, because it has been as low as 5°C here. Serums are a game changer. Why? Serums are a top pick for many skin care professionals. A high concentration of active ingredients, to hydrate and sink into the skin a lot better than a plain moisturizer. Use in conjunction with the moisturizier (apply serums after cleansing, before moisturizing [or mixed in with your moisturizer] and can be used day/night).
Find them:Â Web // Twitter // Instagram
---
Giovanni I really love getting fresh new bottles of shampoo/conditioner in my stocking at Christmas. I've never tried anything from the Giovanni brand before, and considering this hydrating avocado and olive oil set is meant for dry and damaged hair, I feel like it's the perfect time to use as my hair is feeling a little frazzeled after living in this warm California sunshine. Bonus, is that these two products did not weigh my hair down, nor made it oily looking on second day: score!
Find them:Â Web // Twitter // Instagram
What are your thoughts on my first Spiffykerms Holiday Gift Guide of 2015? Are you stoked to see more? Have you heard of any of the brands listed, or are interested in buying them for people this year? Let me know!
Disclaimer: Thanks to Whole Foods for sending a Whole Foods' Exclusive Winter Beauty Kits for me to try out.