It pays to plan ahead, plus is saves me dolla bills. Bonus is that they require zero preparation. Here are the foods I bring with me whether I'm traveling or avoid going hungry.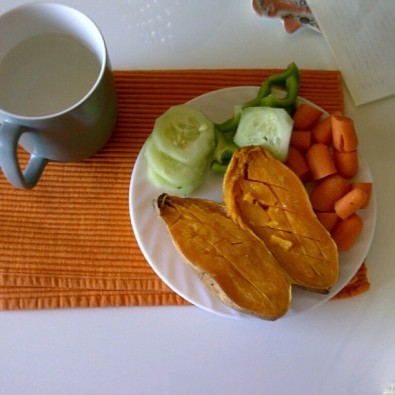 Vegetables and Fruit:
Fiber rich fruit such as carrots, and bell peppers are the easiest to carry around. Apples, unsweetened dried mango and berries are also great options. Contrary to what the photo may say, I do not carry around a fully cooked sweet potatoe in my purse ;)
Trail mix:
I stock up on a trail mix that I create, from the Bulk Barn. It's healthy fat and fills you up. Keep in mind you should only grab a handful and that will be enough. I always add in some mini m&ms. It's one of my favorite snacks to bring to work. Such an easy thing to pack. Note I do get the raw unsalted nuts.
Energy Bars:
I don't eat these bars as a meal replacement, but as a snack. Some of the protein bars are a little better than a chocolate bar but a lot of them are loaded with sugar, so watch the labels. Make sure that there is a good mix of carbs, protien (at least 8g) and some healthy fat (avoid trans fat!) and of course sugar, make sure it's lower than 7g. Some of my favorite snack bars to grab are Kind bars, Luna bars, and Clif bars.
I blogged about Kind bars in my Healthy Snacking Tips post and a rep from Kind Bar asked me if I'd like to try out some of their new flavors that just launched. Heck yea I ain't sayin' no to that. As you can tell from the above photo I already enjoy their bars so there definitely wasn't any hesitation e-mailing Erin back!
Some of the Kind bars have more sugar in them, but the new ones just launched have only 5g of sugar. Take a wild guess and tell me what you think was my favorite flavor of the two?
No questions asked. Most definitely the dark chocolate chili almond. It wasn't one of those bars where you take a bite, put it down and continue on with what you're doing around the house, or on the computer. After every bite I couldn't wait to bite into another piece. So much for slow eating! How does the chili interact with my taste buds? I thought it would burn the buds right off my tongue since I'm a huge wuss when it comes to anything spicy. The Kind bar just added warmth if anything. Thankfully it did not burn my mouth and was both sweet and salty which is clearly a winning combination.
I left the maple glazed pecan & sea salt taste test up to my boyfriend to tell me what he thought of it before I opened up mine. Mainly because I'm not the biggest fan of maple even though I really do like maple syrup and maple walnut icecream. His reaction? "At first it tasted like… uhh. Then I was all…mmm!" And there you have it folks, Scott's first review on my blog. What an informative guy.
Luckily a few days later I ended up bringing the maple one to work with me. Opened 'er up and had a try. It has a lot more texture and crunch going on and wasn't overpoweringly tasting like maple. It was more of a typical granola bar flavor than the dark chocolate chili almond. So it's safe to say I thoroughly enjoyed that one as well.
Stay tuned for tomorrow's post because I have some Make Up For Ever brushes that I want you to see!
Do you carry food in your purse/bag with you? What do you bring?
Have you ever had an energy bar?
What one flavor of the new KIND bars do you think you'd like: maple or the dark chocolate one?