I've invested four dollars of my money in a hair brush that looks horrible but has had great reviews. Meet, the Tangle Teezer. It's a brush that claims to detangle your hair with little effort. Does it work? Should you buy it?
I have fine hair, and if I step outside on a windy day, my hair will get knotted. For years I've been using this wide tooth comb and while it worked for the time being, I felt like my hair wasn't growing past a certain length and my hair was breaking easily, no matter how careful I was with the comb. I wash my hair every second day but I've been using the Tangle Teezer brush everyday since I bought it.
All I can compare it to is brushing out your already brushed hair. That's how easy it is to glide through my rats nest set of locks. With regards to hair shedding however, there's not a significant change. My hair sheds just about the same as it used to. So that's unfortunate.
When can you use the Tangle Teezer?
Use on wet or dry hair.

Use in the shower to distribute your conditioner.

Use it when you've stepped out of the shower to rid hair of knots and tangles.

Works after you've applied styling products to damp hair.
The shape of the brush is the only thing I have a small issue with. I don't mind that it doesn't have a handle but it doesn't fit in my hands as nice. But those are minor details.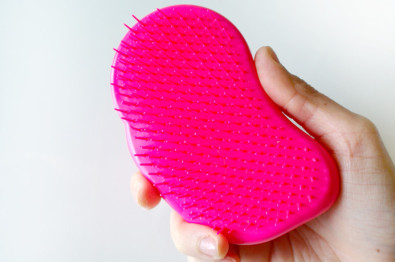 You can see from the photo that the plastic bristles are two length which are thin and flexible. Note the bristles are shorter so if you have an abundance of hair you may need to separate it into sections.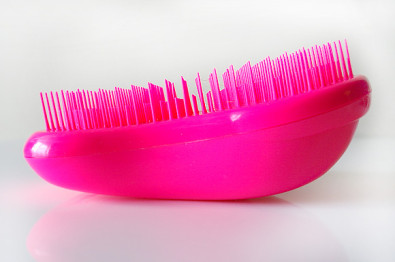 The Tangle Teezer is worth every penny… that is, if they made pennies anymore. You catch my drift, don't you? I think I'm going to pick up a few more as presents before it goes back up in price.
Do you have tangly hair?
What kind of hair brush do you use?