I was surprised when I received an e-mail from www.SibuBeauty.com asking me to review one of their products, I didn't hesitate at all and wrote back immediately when I was on vacation in BC and told them that I'd love to review something from them.  I don't know how they found my blog, but I'm glad they did. I've been a fan of Sibu products for a while now after I've seen quite a few YouTube videos about it.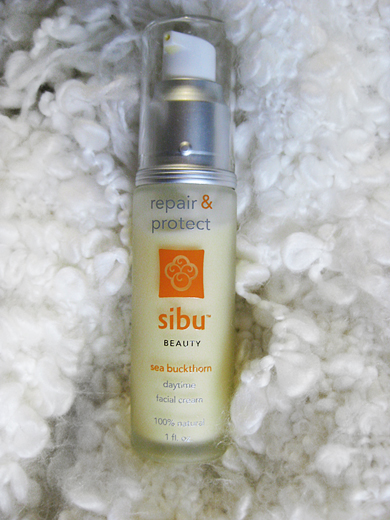 Sibu sent me the Repair & Protect face cream which I've been using on my face each morning after I get my morning shower. The cream itself is a baby yellow color with a very distinct smell to it; sort of like a light citrus scent with hints of orange and cranberry. The scent is unique because of the sea buckthorn berry ingredient, which I'll get into more further down into this review.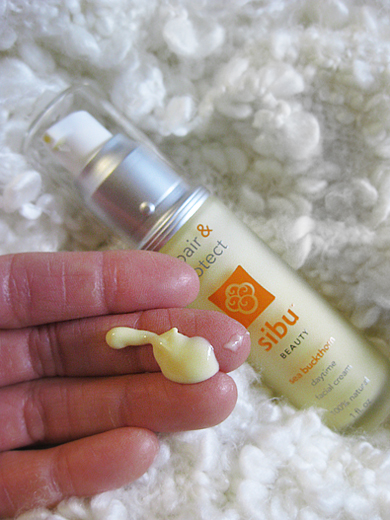 This is two pumps from the cream, and I put that over my face. Yeah, I have dry-scaley and calloused hands. That means they're working hands! Chalking up at Climbing and CrossFit will do that to you.
When I apply the cream onto my face it feels moisturizing, light weight and quite slick. It doesn't leave any sort of residue but just sinks into my skin just enough so I feel moisturized. I apply liquid foundation about 25 seconds after its been rubbed into my face. I also enjoy the luxurious looking packaging of Sibu products. My face cream is in a semi-frosted glass bottle, and the pump seems very well put together. Product hasn't gotten stuck through it yet!
Onto the Sea Buckthorn berry that I talked about in the second paragraph up above. Sibu's product line is based around one significant ingredient which is the sea buckthorn. It has a little special place in my heart, not because it was first grown and harvested high in the Himalaya's — but now I've seen it grown even in Newfoundland! I know this because there was a CBC documentary about it when I was home for Thanksgiving! The sea buckthorn berry has been labeled as the super fruit, primarily because this berry is rich in antioxidants and fatty acids.
A lot of people would probably really enjoy this product as it is cruelty-free and contains no gluten, sodium dairy, yeast, wheat or preservatives. Sibu products are quite affordable, the Repair & Protect cream that I received, sells for $20.95 on their site. But keep an eye out for their shop as they often have a buy 1 get 1 free promotion. So sign up for their e-mails to be notified!
Have you tried any products by Sibu before? What kind of moisturizer do you use on your face?