A few weeks ago, I had an allergic reaction and my eyes puffed up. I didn't even look like myself when I looked in the mirror. It was the strangest thing. After the swelling went down my eyes started to get parched and dry out so much it looked red, scaly and ever so painful. Thankfully it wasn't. It just felt dry to me.  I'd like to spare you the details but I think it's necessary to show you what my eyes used to look like.
This is the biggest photo you're going to get, the real deal. When the image was enlarged you could see on my cheeks that the skin looked taut and pulled so tight it was creating lines on my upper cheeks. So gross.
I minimized what I wore on my face for weeks, and only used three products in the morning. I'll get more into that below. This photo below was taken two weeks after my flare up. I noticed a few hours later that my skin was still parched and I probably shouldn't have used a thicker concealer under my eyes. I ended up using a Lise Waiter cream concealer wheel that morning to make my eyes brighter. Unfortunately in this photo below you can't see how bad it looked in real life. I guess I'm thankful that the camera didn't pick up the flaky skin under my eyes. Lucky for you, you don't really have to see. Just take my word for it :)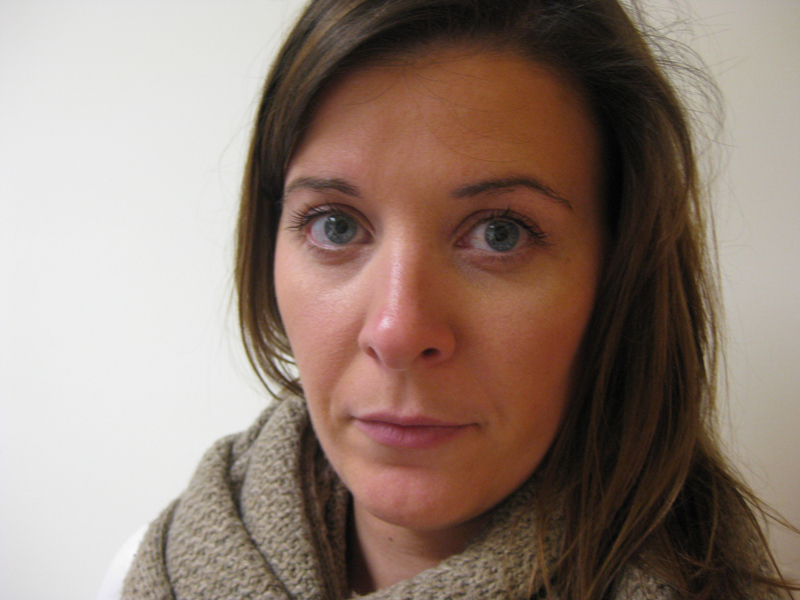 The products that ended up saving my skin altogether happened, literally overnight.

My neighbors back home both work in the health field and I e-mailed them asking if I could use Vitamin E oil on my face as an intensive moisturizer. I've read that you can buy capsules of Vitamin E oil and break them and use them one at a time. However, we had a bottle of it on hand as we used to use it on our Hedgehog's quills before he passed away.
My nightlight routine has changed drastically! I used to just use a moisturizer not knowing how to keep my skin replenished and moisturized. It always got so tight after I washed my face with any kind of cleansers.  I present to you, my skin saviors.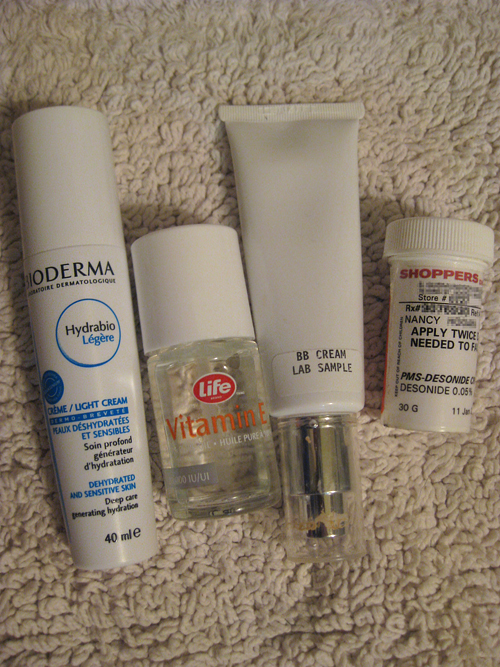 In the morning and evening: The first thing I do is always moisturize my under eyes and orbital bone area with the Desonide cream (what is Desonide? Find out here) which I got from the dermatologist since I had eczema on my eyelids one winter. This has been the main help in repairing my eyes lately.
Next the  Bioderma cream goes all over my face and neck. I have to use about three pumps of this cream to cover my face since my skin wants to sop up everything I put on it. No trouble using it all up though, this is a product I got in one of my makeup baskets that I won off Twitter (and blogged about here).
The white tube of  "BB Cream Lab Sample" is my Marcelle BB cream that I mentioned here. This is like a foundation for me, so I obviously put it on only during the morning.
The Life brand Vitamin E oil is a very thick, sticky consistency. I only put this on about  half hour before I go to bed. Underneath is the prescription eczema cream and I wait for that to soak in before I put on the Vitamin E oil. I always wake up with really soft skin near my eyes. Loving this combo!
I had two trial sized bottles of Kiehl's midnight recovery serum that I used all up this month, and I loved it. I would've included it in my skin saviors but I ran out.
My skin is in no way 100% just yet. Once a week I try to go back and use some sort of creamy or liquid under eye concealer, but it ends up being cakey within 20 minutes. It's ridiculous. So, I guess I'll have to wait another while yet before it's fully repaired.