First of all, what is BB Cream?

It's a moisturizer, primer and foundation all in one. BB Cream has been quite popular for a few years now in Asia. It was advertised that you can use just the BB cream on your bare face and skip any other steps in your routine. I received a Marcelle BB Cream lab sample from Marcelle to try out.
It comes in a pump/squeeze bottle format.
The 45ml bottle retails for $22.95 and comes in two shades.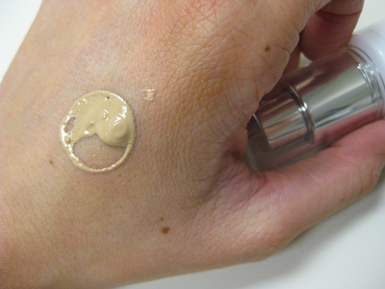 It came out in a weird squirt the first time.
But here it is rubbed into my skin a smidge. I took a photo with less product on my hand and rubbed it in. But since it blends well into my skin, you couldn't tell I had any product on my hand when it was rubbed in. Which is ideally what you would like on your face. It had a bit of a dewy look to it as well.
Personally, I have dry skin and wouldn't skip my moisturizer with sunscreen. The reason why I wanted to try out a BB cream was because it gives a dewy look to your face, and I'm one who likes that effect. A moisturized, healthy look to the skin like my Laura Mercier Moisturizing foundation does to my skin. I do not have oily, or acne prone skin so I'm not sure how well this will effect those skin types and how long it will last on the face.
I was first introduced to Marcelle products when my neighbor back home in Newfoundland mentioned that I should use it since it's non irritating due to it being hypo-allergenic. It's great to use on my skin since I'm prone to eczema in the winter time. My eczema moves around, and this year it's in the most annoying place on earth my EYELIDS. I use Marcelle products on my face to cleanse off my makeup with either their cleansing milk, or the gel which I now have at home.
In a week or so I'll do a followup post on how I liked the BB cream, how long it lasted, what the coverage was like and so forth. But for now if you'd like to read more about the BB Cream on Marcelle's website, you can do so here.
Have any questions? Ask them in the comments section below.