Out of 983 contest entries, I won Julie's huge Marcelle/Annabelle cosmetics giveaway. I received the prize package and this is what arrived!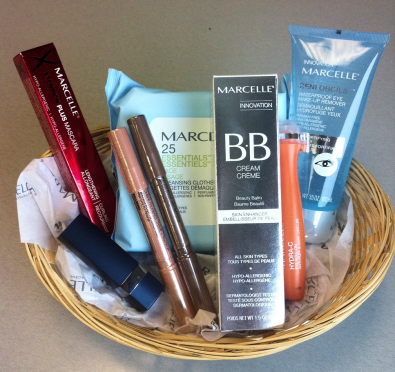 (photo source from Julie's blog)
Included in the Prize Pack is:
Marcelle Xtension Plus Mascara
Marcelle BB Cream
Marcelle Cleansing Cloths
Marcelle Lux Cream ES + Liner – Taupe
Marcelle Lux Cream ES + Liner – Ballerina
Marcelle Renforcils Waterproof Eye Make-Up Remover
Hydra-C Eye Roll-On Anti-Puffiness, Anti-Dark Circles
Rouge Xpression Lipstick # 852 – Revolution
Retail value: $128.25
I wanted to thank you again Julie for hosting the Marcelle/Annabelle cosmetics giveaway.
Marcelle is a trusted brand that I like to use on my skin. It's hypoallergenic meaning it's non-irritating for my eczema prone skin and doesn't make my face sore! Yeah another BB cream!! It's what I use on my face now for "foundation" the past little while. See my review on it: part 1, and part 2. Marcelle sent me their BB cream to review and that was it – I absolutely fell in love with it and even though it's a BB cream, it's completely replaced my Laura Mercier hydrating foundation which at the time I didn't realize how heavy it was on my skin.
During the winter months I have easily irritable skin and using these products sometimes often saves my skin. Thanks again to Marcelle and Julie!