Tank: H&M (It was $14, so I bought two!)
Cardigan: Banana Republic (just bought a few weeks ago)
Bermuda shorts: Mexx
Shoes: Nine West. These P.O.S. shoes wore the "toes" out within the first 3 or 4 times that I wore them. I brought them back to the store in Toronto and wanted my money back, but they wouldn't allow that as I had told them I wore them outside. I should have lied.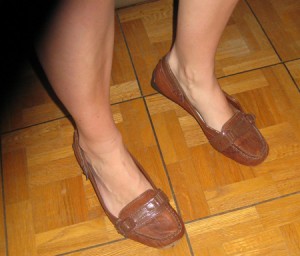 Look at the scuff marks on those toes. Okay, you can barely see it. Fancy camera angles in the a.m.! You'll rarely see me wearing these. I think it's too bad it ended up that way. They weren't cheap either!

My hair has a mind of its own today and I don't care. Oops?
Also I don't think the shoes go well, but it's Friday and I don't think that far ahead on Sunday evenings when I'm picking out my OOTD's for the week.  But wow I kept it up all week with the OOTD (Outfit Of The Day's)! Glad so many people are enjoying them. I certainly am!
Germany vs. Serbia world cup soccer game on the go now. Serbia just scored … boo! I never cheer for the underdog. :)
I have another running post coming up this afternoon, stay tuned for that and don't forget about entering into my lululemon contest.