I just want to pop in here this evening to tell you all that I feel like I'm on cloud 9 right now.
A weight has been lifted off my shoulders which seemed like it was on me since September/October of last year. Without getting into too much detail for personal reasons, I said what was needed to be said and it felt amazing. I feel amazing and so very proud of myself for telling it like it is. Even if I got a little purple in the face and needed to step away to "take a breather" after all was said and done.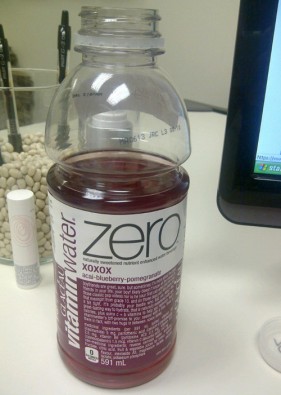 Then. I sat back down — cracked open a bottle of vitamin water zero and enjoyed. So fruity, so juicy. I felt like I was getting hugs and kisses hence the perfect name, for the perfect opportunity to drink it.
Have you guys ever tried this out? I've had the original vitamin water's before but there's new ones out with zero calories. Or something. It's delicious. I reserve them for my 3pm snack time at work. I do not share.
I tweeted the other day this funny one liner (if I do say so myself) to vitamin water:

They apparently loved my enthusiasm. Psh, who doesn't? ;)
Oh the triple threat. Three delicious flavors (go-go, xoxox, and resilent-c). Three different flavor parties in my mouth. Honestly? I had no idea what to expect when drinking it. I thought it was going to taste either like watered down juice, or water with a hint of flavor. But it's thirst quenching goodness that my taste buds are happy that I fulfill.
I went to Bulk Barn right after work and picked up some sweets for my sweet for Valentines Day tomorrow ;) Isn't the bag the cutest?
Anyway. Enough blabbering on. Have a great night folks!