Thought I'd tell you a little bit about our Valentine's Day, and it just so happens that Clarins and McDonald's were part of it — ha! Clarins and McDonald's, doesn't really roll off the tongue does it? Sure, many people turn up their noses at me when I say I love McDonald's, but our love for McDonald's is r.e.a.l. Hence the name of this post sunkissed after sunset, a date night with my No.1 this Valentine's Day.
This is my excited face. Excited for McDonald's.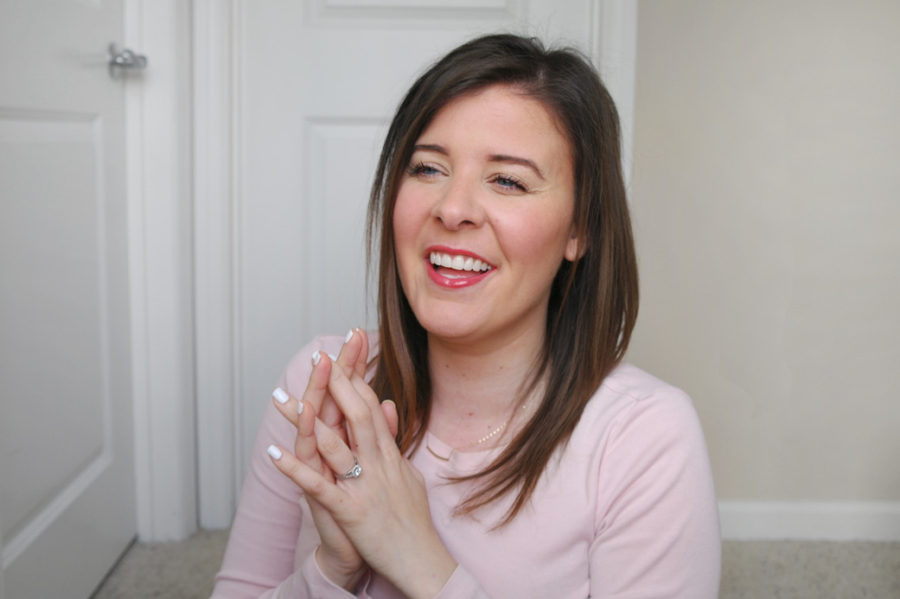 Don't be throwin' any shade at me, but Valentine's Day at McDonald's has been our tradition since we were in the first year of our relationship. Long time readers understand that we couldn't possibly break the rules 12 years in. And Clarins is a product I used to look all dolled up for the evening of fine dining, ha!
Let's get to it! Here's the full list of products I'll be using.
Clarins Face Contouring Palette|$42. (The Clarins Face Contouring Palette is another great gift thanks to the Octoly website where you can sign up for free product from Octoly if you have 10k+ on Instagram / 1K on YouTube.)
Left|Â a beige highlighter illuminates and creates depth
Middle| a bronzey deep shade to use for contouring, sculpting, and defining
Right| soft rose blush creates a healthy-looking glow
You know what? Thinking back on it, I'm pretty sure this is the first Clarins makeup product I've ever tried, apart from their self-tanner (which I used on my wedding day, fun fact!). I don't use that self-tanner anymore because it doesn't have a colour guide and I almost always missed a spot when self-tanning using their product.
I love doing these step-by-step tutorials, because it helps a lot of my readers out who are kinda new to makeup. As always I love to keep things natural looking, but definitely with an added sunkissed look. I amped it up on Valentine's Day giving a sunkissed after sunset healthy look to the skin. Follow along with me, and I'll show you exactly where I placed what products, and then give you a final look down below!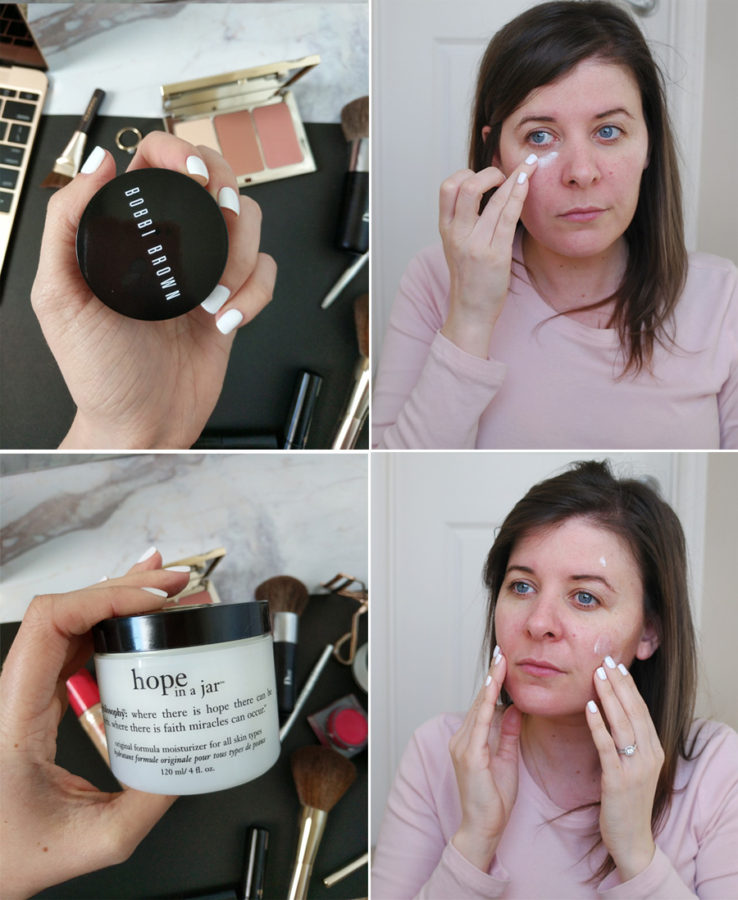 B'ys ya first gotta prep the face and hydrate it up. Otherwise the foundation and everything on top will be all cakey and gross. At least, in my experience with my weird dry skin. So, I'm using my ol' faithfuls. Never stray from my Bobbi Brown Extra Eye repair cream + Philosophy Hope In A Jar moisturizer combo. It's gold.
Once it all sinks in, I wet a sponge (looks like a BeautyBlender, it's not – I got it in a swag bag from an event a while back) and apply my foundation with it, for a healthy radiance look to the skin. I wanna glow, baby, so I've reached for a lightweight foundation Bourjois Healthy Mix Foundation in 053 Dark Beige. I also never stray from my favourite concealer Cle de Peau in Beige.
Ah my favourite two steps, adding dimension and a bitta colour to the cheeks. I dotted on Burberry lip and cheek bloom  ›  No. 09 Poppy then set it with the powder blush in the Clarins palette. Then I went to town on the bronzer shade buffing it in with my fave brush for bronzer, the Dior Brush Backstage Brushes Kabuki. I love looking tan, lol.
Since thicker brows are in, I have decided to continue filling them in and making them look prior to the days of waxing and plucking the heck out of them .Dior Diorshow Brow Styler inUniversal Brown is terrific for that, and the ultimate match for my lil' brow hairs. For mascara I have been using theBobbi Brown Smokey Eye Mascara since right before Christmas. I don't want it to ever dry out, and I would love it if Sephora (or other places) sold all-the-brands of travel sized mascaras. I think they last just as long, and half the price. Maybe that's why they don't do it… lol
Top it off with some gloss (because I was eatin' McDonalds and definitely didn't want my lipstick to fade all weird!) with Burberry Kisses Gloss in Tangerine No. 77!
The final look! Easy peasey right? :)Â 
Although late posting it, I hope everyone had a nice Valentine's Day :)
Face|

1| Philosophy  ›  Hope In A Jar moisturizer
2| Bourjois Healthy Mix Foundation  ›  053 Dark Beige
3| Cle de Peau concealer  ›  Beige
4| Clarins  ›  Face Contouring Palette
5| Dior Brush  ›  Backstage Brushes Kabuki
6| Burberry lip and cheek bloom  ›  No. 09 Poppy
Eyes|
7| Bobbi Brown  ›  Extra Eye repair cream
8| Dior Diorshow Brow Styler  ›  Universal Brown
9| Bobbi Brown  ›  Smokey Mascara
Lips|

10| Burberry Kisses Gloss  ›  Tangerine No. 77
Shop the look!

Disclaimer:Â I received this product complimentary from Clarins . All opinions are 100% my own #gifted #honestreview #octolyfamily