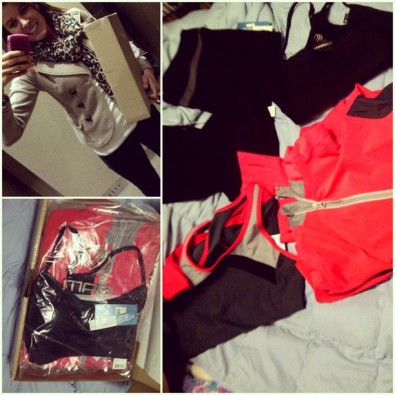 I know you've probably already seen a few of these photos that I uploaded to Instagram (@spiffykerms), but I wanted to keep my post just as enthusiastic, because I was SO EXCITED to get my Mondetta Performance Gear (MPG)! This company is Canadian and is just based out of Winnipeg. Heeeeyyyy Canada!
I had placed an order (for free, they sent it to me) and since I read reviews online that their clothes ran small, I too decided to size up on just the pants. Because who wants to have tight work out clothes and make you feel uncomfortable, and unflattering? No one does.
Unfortunately the review I read was incorrect. MPG does not run small. In fact, their clothing fits exactly the same as any other store would. I had  asked for the mediums in just the bottoms, and smalls for the rest of the tops, but my butt was totally swimming in them. They looked great if I was standing around but when I was doing front squats, burpees and a 1kilometer run at CrossFit, I kept having to yank them up and wiggle my arse to get them to sit high on my hips. Otherwise, I felt that I would've been butt-crack mooning everyone. Not fun :(
Of course, that's not their issue. It's completely my fault. I even looked at the size charts which were accurate. Ah well. Next time I'll know what size to order.
The quality of the pieces are just incredible though. Much better than my Costco work out clothes, ha ha! I own a few lululemon pieces as well. But it's difficult to compare the two companies. Just because Lululemon has Luon, and everyone else does not.
As soon as I got the go-ahead to pick out two outfits from MPG, I knew exactly that I wanted the Serene Jacket. It's completely true to color online as it is in person. It's a neon hot pink. Maybe not neon. It looked pretty bright in the natural light though, so let's just call it neon for now.
First photo is me showing you guys that it has a sweat-zip snuck in there by the zipped pocket area, there's two sets of zippers! Second photo is me showing the "pullover mittens" as I'd like to call it. It definitely came in handy on some outdoor runs (not long one's) and the last photo is me showing you the backside, where you can poke your pony tail through!! Ha!
I wore this jacket the first day that I got it. I'm also wearing the Endorphin leggings here. Once I ripped open the plastic packaging the leggings came in, I wanted to check to see if they had a gusset in the leggings. Because nobody wants a camel toe, am I right? Thankfully, both pairs of them did.
A different day, wearing the Endorphin leggings. I have to hold up the back of my pants while doing our warmup runs at CrossFit, otherwise I feel I'll lose them! Wish they had a tie-string to make them tighter. What I really like about the Endorphin leggings is that they're long enough for my legs. A few of my crop's from Lululemon hit right below the knee, which I think is a very unflattering length. I'd rather it hit right in the middle of my calves. I'm average height at 5'6″ but I have longer legs, I think.
I have a complaint about the Serene Jacket however. I wore it once to CrossFit for maybe 15 minutes. I then wore it again, underneath my thicker jacket while at Nuit Blanche in Toronto over the weekend. Unfortunately the fabric is prone to pilling, because look at what happened near the left pocket / my elbow area.
Pilled like mad! It also looks a little pilly on the cuffs where my thumbs go through the loops as well. For $90, I wasn't expecting this.
I tweeted about it and received both a tweet, and an e-mail saying that this was completely out of the norm. They said that their garments have become renowned for their durability and integrity after repeated washings, which is why they were both perturbed and surprised to hear I was having problems.
I hope that they're like that with every customer (if/when this happens to the next person) and not just because of me since I'm doing a review for them. But, either way I was glad they replied in under 12 hours and sent out a new jacket to me. That's pretty wicked, in my mind.
I also received the Avert legging which is a long pair of leggings, that hit straight down to the ankle. I've always wanted a pair of leggings for the winter that completely covers my legs. Just because it's so cold in the winter and I don't want much skin exposes to the harsh elements. Not that I do any exercising outdoors during the winter…I just wish I didn't order these too, in a medium. Again, too big for my little toosh. However these are much more wearable than the Endorphins, since the Avert leggins has a draw-string to tighten up the pants. So I can wear these while working out and not expose myself. haha.

I wasn't sure about the look of the tank when I got the Rumor tank. It was my second choice, because Pax was all sold out in my size. I may have even said uh-oh when I tried it on. My boyfriend asked what was wrong and saw nothing wrong with the tank top at all. That erased all doubts I had and decided it was a nice tank! Seriously, that's all I need man, a little positive feedback and I'm all good. What do you guys think of that one? It's definitely much more fitted than I usually wear. But I really like it, especially since it has a zipped pocket in the back for keys or a piece of ID.

I also got a bra, which I'm not showing you. Ha ha! It's the maneuver bra and is quite nice too, it has a bit of ruffling/sinching on the front of the bust which is cute. I wore this with a tighter tank top, so I think this one would look best with a bit bigger top, so it doesn't look like I'm stuffing my bra with tissues ;) It had great support and also comes with some removable not-so-overly-padded cups. You know, on the days you're feeling a bit nippy outside. Know what I'm sayin' here ladies? ;)
My favorite MPG pieces that I got to review? Most definitely the pink Serene jacket, and the two pairs of leggings. I don't mind hiking them up every once in a while, but the longer pair (Avert) has a draw-string, so heya, bonus there!
Which items are your fav?
You can use the coupon code spiffympg2012 which will give you 25% off your purchase. you cannot use this coupon on marked down prices. Valid until June 30,2013!