As per Leanne's request I have posted a new recipe! About time I had a new one up on my recipe page, hey?
Good ol' Lemon Pepper Chicken Stir Fry it may not photograph the best. But it's darn tasty.
It only includes these simple ingredients!
Plus three packs of noodles, minus the powder sauce (because it's bad for us, plus we can make it taste way better!)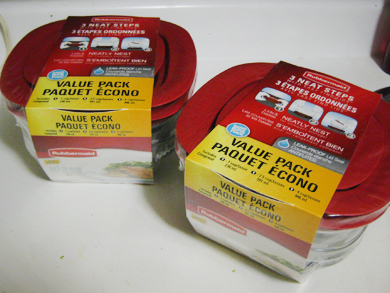 Unfortunately for my clumsy hands, I dropped one of the smaller glass containers on the floor and thank the LORD it didn't shatter, or even chip. I just washed it off and put the remaining leftovers in the rubbermaid glass for our lunches the next day.
I'm a GREAT cook haha, and I clean as I go. But when serving up supper — that's probably when I'm the most messiest. Sorry for the splattery food in the photos. I could photoshop it out. But let's get real here.
The value pack comes with three glass containers, and 3 lids (of course). I haven't shown you guys the smaller container. The smaller one wouldn't hold enough for a lunch, but something more like a sauce, or snacking type of foods between meals.
Apparently these are leak-proof. But I've yet to dare and test that out by tipping it upside down with my lunch in it, yet.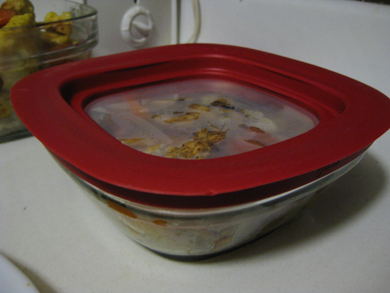 I'm liking the lids of the Rubbermaid glass though. They're not difficult to remove at all thanks to the large "lips" for lids. See?
It's a huge favorite of mine and I need to be careful to not make it 3 days out of the week for supper. I don't want to get sick of it! I've always had this recipe on my website hidden in the archives, but finally decided to make it a staple in my recipe section of my website. It's simple with some weird ingredients in it like vinegar. Would would have thought? That's why I don't experiment in the kitchen too much. I'm a recipe follower, and my Mom and Brother are recipe makers.
I made my lemon pepper chicken stir fry the other night and ended up sticking the leftovers in my Rubbermaid Glass containers. I'm not the hugest fan of left overs but the stir fry actually reheats well and doesn't taste like leftovers. The only things I like to have the next day are that, and my homemade macaroni and cheese as leftovers.
The Rubbermaid Glass is everything safe. You can even use these babies in the oven to create some kind of fancy casserole if you have a recipe for something like that. If you do, please share. ;)
Microwave safe

Dishwasher safe

Freezer safe

Oven-safe up to 425ºF

Flex & Seal™ leak-proof lids won't tear or break

Square-shaped to maximize space

Superior stain and odour resistance
Rubbermaid Glass containers:
(Click to enlarge)
Leave a comment/recipe telling me your favorite dinner recipe. Mine is most definitely the lemon pepper chicken stir fry my brother taught me how to make.
I'm not sure I've ever shown a photo of my Brother and I together. Here he is in his kitchen in Ireland (he now lives in Newfoundland) when I went to visit him a few years ago. Off I go on an airplane tomorrow to see him!